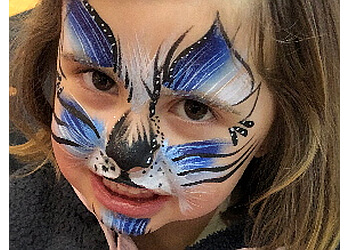 Experience the enchantment of Castletop Characters as they captivate the hearts of young ones with their esteemed face painting services in Chilliwack. At the forefront of this magical journey is Gina Marie Frazier, a versatile Children's Entertainer who boasts a wealth of training in acting and visual arts. In the year 1990, she gave life to CASTLETOP CHARACTERS, a venture that blossomed from the sincere desire to meet her clients' requests. Commencing with birthday parties, Gina's artistic endeavors swiftly transcended into the realms of community galas and corporate functions. Her theatrical accomplishments span a spectrum of lead and principal roles encompassing theater, film, television, commercials, music videos, and voice-overs. Gina's accolades include a coveted CBC Puppetry scholarship, the prestigious People's Choice Award from B.C. Parents Magazine, and a distinguished National Graphic Design Award. Ensuring the safety of your precious ones, all paints utilized are non-toxic and can be easily removed using soap and water. Suitable for ages 7 and above, extending to teenagers and adults, Castletop Characters introduces the delightful "Ahhh-spa-glam" experience offering nail and hair treatments tailored especially for young ladies. For a personalized quotation, reach out to Castletop Characters and embark on a journey of artistic wonder.

UNIQUE FACTS:
• Most Experienced Face Painters
• Award Wining Artist
• Interactive Process
• Every Theme is Transformed.
Specialty:
Costumed Characters. Semi-Permanent Tattoos and Glitter Tattoos, Magic, Balloon Twisting and Face Painting, Fairs, Festivals, Schools, Picnics, Daycares, Grand Openings and Promotional Events, Graduations & Christmas Parties
Contact:
Working Hours:
TBR® Inspection Report: