Meilleurs Planificateurs De Mariage à Kelowna
Expert recommandé Top 3 Planificateurs De Mariage à Kelowna, Colombie-Britannique. Tous nos planificateurs de mariage sont en fait soumis à une inspection rigoureuse en 50 Points, qui comprend tout, de la vérification des avis, des notes, de la réputation, de l'historique, des plaintes, de la satisfaction, de la confiance et des coûts jusqu'à l'excellence générale. Vous ne méritez que le meilleur!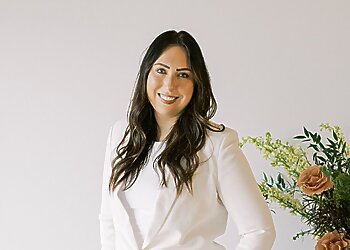 Coordonnées:
Heures d'ouverture:
lundi-vendredi: 9AM - 5PM
samedi & dimanche: fermée
Rapport d'inspection TBR®:
WHITE HAVEN WEDDINGS & EVENTS AVIS
We cannot say enough good things about our experience working with White Haven Weddings & Events! Cass and her team truly went above and beyond to make our wedding absolutely perfect and uniquely personalized to us. From the initial design and planning meeting, she made us feel at ease and that she truly understood and believed in the vision we had for our version of a dream wedding. This was proven true on our wedding day when everything was beyond even our wildest expectations. The entire WH team did an incredible job on our wedding day from styling the most perfect décor, to arranging the most stunning florals, and ensuring everything ran smoothly and on schedule. We are so, so, so grateful for WH! If you are even remotely thinking about booking with this team, do it. Cass and her team will make wedding planning an absolute DREAM!!!
Cassandra is an incredibly professional, organized, and most importantly, kind individual. I absolutely loved working with her! She always goes above and beyond and genuinely cared about making our special day perfect for us. Her eye for design and attention to detail is unmatched. The entire White Haven Wedding team is so nice and very on top of their game. Communication was always great, and I knew we were very well taken care of. Thank you Cassandra, I don't know how we could've had such a perfect day without you!!!
White haven is the most incredible company to be a part of your wedding day! Cassandra and her team are the most creative, intelligent, and kind people to surround yourself with. I can't say enough good words. My wedding was absolutely perfect and it's all thanks to white haven!
---
Aidez les autres: Cliquez ici pour envoyer un avis ou envoyez-nous votre avis à reviews@threebestrated.ca. Les avis négatifs et positifs seront utilisés pour l'évaluation. Faites la différence.
NATURAL TOUCH WEDDING & EVENTS AVIS
We had the most wonderful time working with Melissa to make our wedding so beautiful and special. Her team was nothing but professional and made my job as a bride so easy. Melissa was consistently in contact and made time to meet with us when we were able to fly into town. Being an out of town bride, Melissa was very helpful sussing out decor and staying in contact with our venue. I would recommend Melissa to everyone for their special day!
Melissa did a fantastic job as our day of the wedding coordinator! Her day of decorating and coordination services made everything come together even better than I could have imagined (and believe me .. I spent far too much time trying to imagine what everything was going to look like at our private venue!! lol). Melissa's day-of package includes so much more than just day of support - help navigating rental pricing in the valley, a site visit to figure out how to best set up our venue, timeline development, mitigating vendor issues, etc. A very worthwhile investment!
We recently had Melissa design and decorate our wedding. My friend used Melissa for her wedding, last year and I knew we needed her for ours. Her and her team did an amazing job. It was better then imagined. She caught table mistakes and had the venue fix them for the correct guest number. The entire process was stress free. She was prompt, full of ideas and even got us deals and discounts. I could have never had the wedding I did, without her. Thank you.
---
Aidez les autres: Cliquez ici pour envoyer un avis ou envoyez-nous votre avis à reviews@threebestrated.ca. Les avis négatifs et positifs seront utilisés pour l'évaluation. Faites la différence.
White Orchid Wedding & Event Planning est l'une des meilleures entreprises de planification de mariage à Kelowna. Shawna Gray est la principale planificatrice de cette entreprise. Shawna est conseillère en mariage certifiée et coordonnatrice du Wedding Planners Institute of Canada. Shawna a eu le privilège d'aider plus de 200 couples à célébrer leur mariage, et elle se sent très honorée d'avoir fait partie de chacun d'eux. Les planificateurs de White Orchid savent à quel point le jour de votre mariage est important pour vous. Avec plus d'une décennie d'expérience dans le domaine de la planification de mariage, ils vous offriront une journée créative et planifiée de manière experte. Ils font en sorte que chacun de leurs événements soit unique, ce qui leur permet de créer et d'exécuter de manière professionnelle de belles célébrations fraîches et inspirées qui vous représentent.
Spécialité
Planification complète et partielle, préparation des grandes lignes du budget, création du thème, conception et planification du décor, recommandation et révision de tous les contrats des fournisseurs, coordination complète du jour du mariage, assistance pour la papeterie le jour de la réception, recherche de linge ou de location et gestion du jour du mariage
Coordonnées:
Heures d'ouverture:
Mardi-Vendredi : 9h30 - 16h30
Lun, Sam & Dim : Fermé
Rapport d'inspection TBR®:
WHITE ORCHID WEDDING & EVENT PLANNING AVIS
Where can I begin, working with Shawna from White Orchid was flawless! She has an amazing calm, collected energy and was a true professional. I like that she provided me with tools to be organized with my wedding. They were really helpful to both me and fiancee. On our wedding day she was exceptional at knowing where to be at the right time, so that we didn't have to think about anything. Shawna really let us be present and in the moment of our wedding day and I can't thank her enough for giving us that. I highly recommend her for planning your wedding!
We had Shawna help us with day-of planning for our wedding. She was a pleasure to work with, keeping us on schedule, and had great communication throughout the planning process. She made sure the finishing touches were complete and made our special day significantly less stressful. I highly recommend Shawna for any wedding planning services!
Shawna was fantastic to work with and we couldn't have done it without her!! She was so organized and she thought of every detail for our wedding day. She has such a calming presence and kept everything going exactly as planned with no stress for us. We highly recommend working with her for your wedding or next event :)
---
Aidez les autres: Cliquez ici pour envoyer un avis ou envoyez-nous votre avis à reviews@threebestrated.ca. Les avis négatifs et positifs seront utilisés pour l'évaluation. Faites la différence.