Filomena Salon & Spa
Filomena Salon & Spa was established in 2009 within the Tri-Cities region of Coquitlam, British Columbia, and is dedicated to helping you achieve hair that brings out your best self. Filomena Salon & Spa is one of the Three Best Rated® Hair Salons in Coquitlam, BC.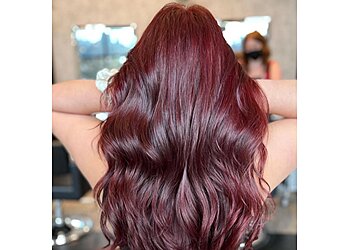 Their team of artistic professionals is both enjoyable and highly skilled, eagerly anticipating your visit. Filomena Salon & Spa is home to a group of extensively trained creative stylists and spa technicians who provide a comprehensive range of unisex hairdressing and beauty services. They take great pride in delivering exceptional customer service and showcasing the highest level of expertise in hairdressing. For the past ten years, Filomena salon has treated their customers as part of their family, building a loyal and devoted following. To experience their outstanding services, you can easily reach out to them to set up an appointment and enjoy the transformation they bring to your hair while experiencing the warmth and hospitality that defines Filomena Salon & Spa.


Free Wi-Fi
Wheelchair Accessible
Accepts Debit Cards
Bike Parking Available.
Women's Dry Cut

Mens

Teen Girls

Boys

Kids Girls

and Boys Cuts

Shampoo

Blowdry

Men's

Children's Haircut

Styling

Colouring

Full Color

Babylights

Men's Colour

Root Touch Up

Half and Full Head Foils

Ombre

Balayage

Toner

Colour Correction

Flat Iron

Curls

Up-Do

Deep Conditioning

Fibreplex

Inca Glow

and Keratin Smoothing Treatment

Lash Service & Hair Extensions
Andrea saved my hair and will forever be thankful to her. I got my hair done couple of times in different salons and never got satisfied until i went to Filomena salon and had Andrea as my stylist. she's very good at communicating, super nice and understanding. she made sure im gonna get my dream hair. i felt super comfortable and attended to my whole experience, will be my go to stylist 4ever. got so many compliments and love for my hair. TOTALLY RECOMMEND HER 1000/10, she wont disappoint.
My first time for balayage and Kim did an amazing service! By just our first consultation meeting, I already felt that she will do an excellent job- and true enough, I love the result- THANK YOU, KIM, you worked SO hard on my hair!!! It was a full house too when I came in yesterday and I noticed that all ladies at Filomenas' are nice and friendly.
I get my hair done at Filomena Spa with Joy! She is incredibly talented and experienced stylist. She always goes above and beyond to make sure my hair is perfect. She is also the most pleasant to chat with. Usually I am in her chair for a solid 3hrs so having someone that is easy to talk to and friendly and caring is so important.
Cut:
Senior Stylist:
Women's $70+
Mens $50+
Teen Girls (11-15) $60+
Teen Boys (11-15) $45+
Kids Girl (10 and under) $50+
Kids Boy (10 and under) $40+
Intermediate Stylist:
Women's $60+
Mens $40+
Teen Girls (11-15) $50+
Teen Boys (11-15) $35+
Kids Girl (10 and under) $40+
Kids Boy (10 and under) $30+
Junior Stylist:
Women's $50+
Mens $35+
Teen Girls (11-15) $40+
Teen Boys (11-15) $30+
Kids Girl (10 and under) $35+
Kids Boy (10 and under) $25+
Colour:
Women's Full Color $105+ - $150+
Men's Color $50 - $75+
Fashion Color $80+ - $140+
10 Minute Colors $80+ - $100+
Root Touch Up $75+ - $95+
Half Head of Foils $120+ - $180+
Full Head of Foils $150+ - $250+
Babylight $165+ - $300+
Balayage $165+ - $300+
Toner $30+ - $75+
Gloss Color Treatment $40+
Mon-Fri: 9am - 7pm
Sat: 9am - 6pm
Sun: 10am - 5pm
Nearby Hair Salons in Coquitlam: