Salon de Jubilee Hair & Extensions
Salon de Jubilee Hair & Extensions stands as a prominent hair salon in Coquitlam, and they are enthusiastic about introducing their exceptional Korean hair services to the vibrant Coquitlam City community. Salon de Jubilee Hair & Extensions is one of the Three Best Rated® Hair Salons in Coquitlam, BC.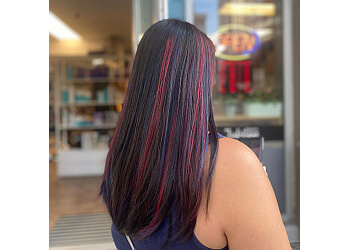 Their team comprises highly skilled and licensed hairdressers proficient in catering to both women and men. Their expertise encompasses a wide range of services, including haircuts, colouring, perms, straightening, hair treatment, scalp treatment, and hair extensions. At Salon de Jubilee, their mission is to help everyone feel beautiful from the inside out, without regard for age, culture, or gender. They welcome all who seek the expertise of their professional hairstylists. Suppose you're interested in experiencing their top-notch services. You can easily schedule an appointment and enjoy a transformative hair experience with their skilled team.


Walk-Ins Welcome
Professional Hairstylist
Hair Extensions.
Woman's and Man's Haircut

Cutting

Coloring

Hair Styling

Hair Bleach

Highlights

Volume Perm

Woman's Regular Perm

Repair Hair Treatment

Root Color

Balayage

Toner

Creative Color

Hair Manicure/ Waxing

Babylight

Japanese Straightening

Digital or Setting Perm

Hair Botox Treatment

Scalp Detox Cleaning

Keratin Smoothing Treatment

Highlight & Hair Extensions
I have come here a few times now and seen a different person each time and every time I have had a great experience! Most recently I absolutely LOVED the way DaDa cut and styled my hair. He also gave a great head massage and that is one of the key elements for me picking a hair stylist since it's not a cheap experience! I like booking my appointments online so their online booking feature is super convenient although it can be a bit cumbersome to use if you are trying to pick/identify multiple options. I also like that I don't have to wait weeks for the next available appointment since my schedule changes quite frequently and unexpectedly. There is also free parking in the underground lot which I wasn't aware of until recently so that is definitely a plus especially since the area is quite busy.
Fantastic service! As an English guy in an Asian establishment, I first felt a little out of place, but even with the language barrier, DaDa's haircuts have become my go-to. He's careful, styles it just how you like it, and takes his time. It's a fantastic comfortable experience.
Had one of the best experiences here. Usually, I go to get my hair cut in Vancouver, but Dada was the person who did my hair today and exceeded my expectations. Very easy to talk to and knew exactly what I wanted after giving a vague description. Will definitely come here again the next time I need to get my hair done.
Hair Cut:
Men's Hair Cut $30
Men's Hair Cut+down Perm $75
Women's Hair Cut $30
Bang Cut $15
Bung Cut+bang Perm.(styling not included) $60
Hair Styling:
Wash Hair (styling not included) $20
Wash +blow Dry(women) $40
Styling & Iron (include wash) $50
Full Updo $90
Hair Color:
Add Olaplex $30
Root Color (1~2 cm) $90
Full Color for Men $100
Full Color for Women $120
Bleach (pre-lightening) $120
Toner $80
Creative Color $150
Hair Manicure/ Waxing $120
Hair Styling - Not Include Color:
T-Zone Highlight $130
Full Highlights $150
Babylight $ 200
Balayage $200
Ombre() $200
Hair Perm:
Men's Regular Perm (include hair cut) $100
women's Regular Perm (include hair cut) $150 Treatments:
Hair Botox Treatment $300
Keratin Smoothing Treatment $230
Scalp Detox Cleaning $70
Repair Hair Treatment $120
Scalp Detox & Hair Repair Treatment $170
Nearby Hair Salons in Coquitlam: