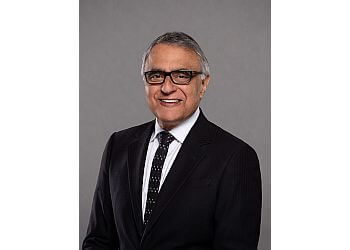 David Aujla specializes primarily in Canadian immigration law, extending his advisory services to clients worldwide. With an extensive legal career over four decades, he has focused exclusively on Canadian immigration law and serves clients globally. As an active member of the Canadian Bar Association (Immigration Sub-section) and the Law Society of British Columbia, he occasionally delivers presentations at various venues, including the Canadian Bar Association's Immigration conferences, civic associations, boards, and real estate companies across Victoria, Vancouver, Vancouver Island, and the Gulf Islands. David Aujla is committed to providing personalized attention to address all your immigration inquiries. He approaches his clients with care, recognizing the complexity and significance of their immigration matters. His mission centers around delivering proactive and effective legal counsel, offering two levels of professional guidance to cater to your specific needs and budget. Rest assured, David Aujla attends to all your immigration questions, ensuring you receive the individualized attention you deserve.

UNIQUE FACTS:
• Guide their clients in a clear and direct way through the complexities of the legal process.
• Telephone Consultations
• Confidential case review.
Specialty:
Permanent Residence, Express Entry, Invitation to Apply, BC Provincial Nomination, Canadian Experience Class, Immigration to Vancouver, Immigration to Victoria & Canadian Citizenship
$Price:
A minimum fee of Cdn. $560 (including taxes)

Contact:
Working Hours:
Mon-Fri: 9am - 5pm
Sat & Sun: Closed
TBR® Inspection Report: