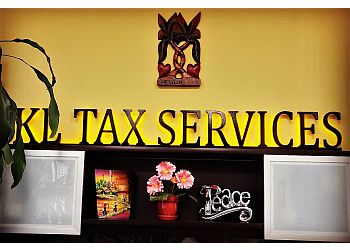 KL Tax Services is a tax preparation company that offers a comprehensive range of services. Their expertise includes full-cycle bookkeeping and audit year-end working papers for various businesses and healthcare facilities. With more than 25 years of experience, KL Tax Service efficiently manages all aspects of payroll, including unionized and benefits-related matters. As a reputable firm, KL Tax Services holds membership with esteemed organizations such as the Institute of Professional Bookkeepers of Canada, EFILE of Canada, and the Surrey Board of Trade. They are committed to delivering professional, cost-effective, and reliable services while maintaining a strong focus on providing excellent customer support. For new clients, KL Tax Services offers a complimentary 30-minute initial consultation, and they are always open to walk-ins, making it convenient for individuals and businesses seeking assistance with their tax and accounting needs.

UNIQUE FACTS:
• CRA Authorized E-Filer
• Over 20+ Years of Experience
• Current Member of the Institute of Professional Bookkeepers of Canada
• Working for various Public Practice Accounting Firms in Surrey, BC.
Specialty:
Tax Services, Payroll Service, Personal and Small Business Tax Filing, Preparation and Planning, Administration, Accounting, Businesses Registration, Efile Income Filings, Revenue Agency Inquiry, GST, Bookkeeping and Consulting, Federal & Provincial Services
$Price:
Bookkeeping & Consulting $50+
Payroll Services $50
Efile Income Tax Filing $25

Discount:
Tax Filling Services through Year-Round Offers for ThreeBestRated Customers
Contact:
Working Hours:
Mon-Fri: 9am - 6pm
Sat: 9am - 5pm
Sun: 9am - 3pm
TBR® Inspection Report: