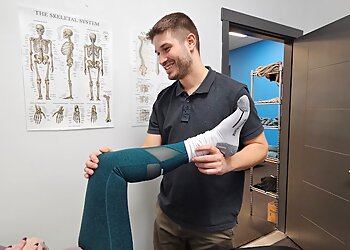 Kinetic Energy Registered Massage Therapy strives to offer a collaborative healthcare approach and invites you to consider them as your primary care facility. Elaine is a registered massage therapist who holds certifications in a range of massage modalities, including Deep Tissue Massage, Therapeutic Hot-Stone Massage, Athletic Taping, Pre and Post Natal Massage, Functional Release, and Table Thai Stretching Massage. Her approach incorporates a blend of techniques such as Swedish methods, Myofascial Therapy, Active Release Techniques, Trigger Point Therapy, and Deep Tissue, tailored to each client's specific needs. Her primary focus lies in injury rehabilitation and stress reduction, making her practice a hub for both physical recovery and relaxation. Their team of skilled massage therapists is dedicated to restoring functionality and alleviating pain and muscle tension in their clients. While they can provide relaxation-focused treatments upon request, their primary focus is on therapeutic massage, rehabilitation, stress management, deep tissue therapy, preventative care, general muscular maintenance, and sports massage. For added flexibility, they often have availability for same-day bookings.

UNIQUE FACTS:
• Direct Billing
• Providing Relaxing Treatments
• Accept ICBC Clients and Private Paying Clients.
Specialty:
Deep Tissue Massage, Myo-Fascial Technique, Trigger Point Therapy, Swedish Massage / Relaxation Massage, Viseral Manipulation / Visceral Massage, Intra-Oral Technique (for TMJ Dysfunction), Joint Mobilization, Neuromuscular Facilitation, Active Release Technique, Craniosacral Therapy & Manual Lymph Drainage
$Price:
Registered Massage Therapy Rates:
60 minute appointment: $130
Pre-natal appointment with the use of pregnancy pillows: $130
ICBC Patients: $42 for a 60 minute treatment
Non-Registered Massage Rates:
60 minute appointment: $75
60 minute Hot Stone Massage: $85
90 minute appointment: $125
90 minute Hot Stone Massage: $135
Pre-natal appointment with the use of pregnancy pillows: $75

Contact:
Working Hours:
M0n-Thu: 7am - 8pm
Fri: 7am - 6pm
Sat & Sun: 8am - 3pm
TBR® Inspection Report: