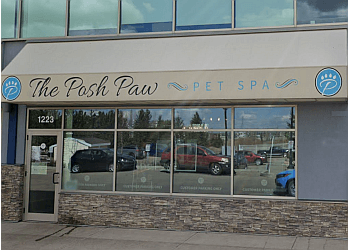 The Posh Paw Pet Spa, located in south Edmonton, is a luxurious grooming salon dedicated to indulging your pet from nose to tail. Their mission is to offer personalized care and create a lavish retreat for your beloved companion, ensuring peace of mind for you as a pet owner. With a combined industry experience of 15 years, you can trust that your fur baby is in capable hands. All their employees are certified groomers with training in pet first aid, guaranteeing the highest standards of safety and quality. Continuing education is a top priority for them, as they constantly aim to stay updated with the latest grooming trends and products. To achieve this, they actively participate in seminars, expos, and grooming competitions. Moreover, they stock only the finest shampoos and conditioners, carefully chosen to suit your pet's specific coat and skin type. At The Posh Paw Pet Spa, they value one-on-one consultations with pet owners, allowing them to discuss and design the perfect haircut and grooming experience for their dogs or cats. By prioritizing individualized attention and maintaining exceptional grooming standards, they strive to provide a pampering experience like no other for your furry companions.

UNIQUE FACTS:
• Jennifer Bilodeau and Kimiko Sawada Are the Owners
• Range of Services and Luxury Treatments for Your Pet
• Experienced and Talented Groomers
• Highest Standards in Safety and Quality
• Customer Satisfaction for Both Owner and Pet Is their #1 Priority.
Specialty:
Luxury Bath, Luxury Groom, Nail Trim, Hand Stripping/ Hand Scissoring, Creative Colour, Deep Coat Conditioning, Nail Polish, Nail Cap Application & Teeth Brushing
$Price:
Nail Trim:
Dog $15
Cat $16.50
Hand Stripping/ Hand Scissoring Starts from $10
Creative Colour Starts from $5
Deep Coat Conditioning Starts from $5
Nail Polish Starts from $10
Nail Cap Application Starts from $5
Teeth Brushing $5
Cats:
Luxury Bath $80 / Hr

Luxury Groom $80 / Hr
Dogs: Luxury Bath:
X-Small $50/hour
Small $50/hour
Medium $50 to $55/hour
Large $60/hour
X-Large $65/hour
Xx-Large $75/hour
Luxury Groom:
X-Small $50/hour
Small $50/hour
Medium $50 to 55/hour
Large $60/hour
X-Large $65/hour
Xx-Large $75/hour

Contact:
Working Hours:
Mon-Sat: 9am - 5pm
Sun: Closed
TBR® Inspection Report: