Harmony Valley Pharmacy
Harmony Valley Pharmacy, located in North Oshawa, operates as an independent pharmacy with a distinctive approach. Harmony Valley Pharmacy is one of the Three Best Rated® Pharmacies in Oshawa, ON.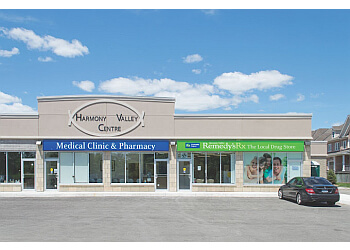 Their philosophy is rooted in treating every individual who enters their doors like a member of their own family. This sentiment reflects their commitment to fostering a sense of community. As a community-oriented pharmacy, they take pride in offering not only competitive pricing but also friendly and personalized service. Dedicated to enhancing health and well-being, Harmony Valley Pharmacy provides an array of services that cater to their customers' needs. These services encompass seasonal flu vaccines, compliance medication packages, personalized medication reviews, and specialized compression treatments. By offering this comprehensive range, they aim to be a one-stop destination for diverse health requirements. Acknowledging the importance of convenience and accessibility, Harmony Valley Pharmacy offers free contactless delivery within the Oshawa area. This service ensures that essential healthcare items are brought to your doorstep, allowing for a seamless experience. For customers managing multiple medications, the pharmacy offers a valuable service: compliance packages at no additional cost. This service is designed to facilitate accurate and timely dosages in accordance with prescriptions, ensuring that medications are taken as directed. In essence, Harmony Valley Pharmacy stands as a testament to community-oriented care, situated in North Oshawa. Through their personalized service, commitment to health, and dedication to customer well-being, they exemplify a holistic and compassionate approach to pharmacy services.


Seniors Discount
Compliance/Blister Packaging.
Health Products

Diet and Fitness

Blister Packaging

Compliance Packaging

Medication Review

Vitamins and Supplements

Medical Reviews

Weight Loss

Men's Health

Mother and Baby Care

Over-the-Counter Service & Smoking Cessation
Having been loyal to a small business for almost three and a half decades I thought it would be difficult to find a replacement given the "Big Box store" climate. However, walking into harmony Valley pharmacy and speaking with the owner and staff I knew we'd found a new home. Personable, knowledgeable, and expedient, they check off all the boxes. Support small business before it's too late. Thank you Jas and staff for the welcoming vibe.
Amazing female pharmacist. When the male pharmacist is in I will not go here. He's rude but other then that everyone is amazing and worthy of 5 stars.
Walking in here is like walking into "Cheers", where everyone knows your name! The pharmacists are all very knowledgeable and they genuinely care. I never have a problem getting all my meds on time and getting my questions answered. I also love supporting a smaller pharmacy, they deserve your business. I recommend this place to everyone.
Mon-Thu: 9am - 7pm
Fri: 9am - 6pm
Sat: 9am - 4pm
Sun: Closed
Nearby Pharmacies in Oshawa: