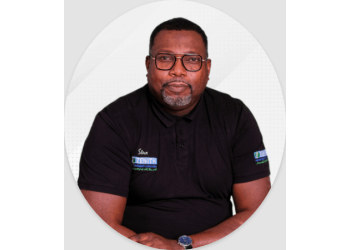 Steve Ajayi holds a Master's degree in Physiotherapy from the University of Limerick and has also earned a Post Graduate Certification in Healthcare Management from the Royal College of Surgeons in Dublin. He is certified by the College of Physical Therapists of Alberta and has specialized expertise in treating a wide range of orthopedic and soft tissue injuries. This includes working with clients who have experienced motor vehicle accidents, acute and chronic pain, and sports injuries. Steve's post-graduate certifications and skills encompass Advanced Manual & Manipulative Therapy, Functional Dry Needling, McKenzie Mechanical Diagnosis and Treatment, and Mulligan's Techniques. As the owner and clinic director at Zenith Physiotherapy and Wellness Clinic, Steve and his team are dedicated to providing specialized treatment for various types of pain, injuries, and conditions. They take pride in offering effective solutions to help individuals alleviate discomfort and improve their overall well-being.

UNIQUE FACTS:
• Member Of The Canadian Physiotherapy Association.
• Direct Billing Available.
Specialty:
CONDITIONS:
Back, Neck, Knee and Shoulder Pain, Sciatica Pain, Shoulder Pain, Hip Pain, Foot Pain, Motor Vehicle Accident Injuries, Chronic Pain, Fibromyalgia, Headaches, TMJ Dysfunction & Sports Injuries

PROCEDURES:
Manual and Massage Therapy, Sports Physiotherapy, Spinal Therapy, Intramuscular Stimulation, Electrotherapy, Motor Vehicle Rehabilitation, Orthopedic and Pre-post Surgery Rehabilitation & Custom Made Orthotics
Insurance Accepted:
Motor Vehicle Insurance, Extended Health Benefit, Workers' Compensation Board (WCB)
Contact:
Working Hours:
Mon-Fri: 8am - 8pm
Sat: 9am - 2pm
Sun: Closed
TBR® Inspection Report: