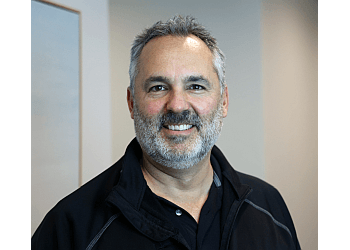 Claude Martel pursued his studies at the University of Ottawa, where he earned his Bachelor of Science degree in Physiotherapy. Notably, he graduated with the impressive distinction of Magna Cum Laude. Claude Martel is also a certified Acupuncturist and conducts Functional Capacity Evaluations. He employs cutting-edge approaches to thoroughly assess the underlying causes of concerns and provide the highest level of treatment. Currently, Claude Martel practices as a physiotherapist at Martel & Mitchell Physiotherapy. Their multidisciplinary team includes a range of professionals such as Physiotherapists, Occupational Therapists, Kinesiologists, Psychotherapists, Registered Massage Therapists, and Rehabilitation Assistants. These dedicated rehabilitation experts are prepared to assist you in managing pain and regaining your mobility. It's worth noting that Martel & Mitchell Physiotherapy also has locations in Powassan and Mattawa.

UNIQUE FACTS:
• Private & Wheelchair Accessible.
• Private on-site therapy pool.
Specialty:
CONDITIONS:
Mild Traumatic Brain Injury, Chronic Pain & Back Pain

PROCEDURES:
Manual Therapy, Orthopedic and Neurological Physiotherapy, Aquatictherapy, Occupational Therapy, Custom Knee Bracing, Concussion Management, Acupuncture, Massage Therapy, Psychotherapy, Vestibular Rehabilitation & Hand Therapy
Insurance Accepted:
Auto Accidents, OHIP Funded Physiotherapy
Contact:
Working Hours:
Mon-Thu: 8am - 5pm
Fri: 8am - 12pm
Sat & Sun: Closed
TBR® Inspection Report: