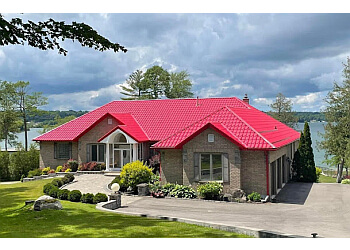 Roofing For Less stands out as a premier roofing contractor in Orillia. With a wealth of experience spanning over thirty-five years in the roofing industry, this company has established its expertise. Guided by a team of seasoned professionals, they are dedicated to assisting you in selecting the ideal solution that aligns with your objectives and financial plan. Their coverage includes both Workplace Safety and Insurance Board (WSIB) as well as liability insurance, showcasing their commitment to safety. Their specialization encompasses a wide range of roofing types, alongside additional exterior installations. The core of their ethos revolves around delivering top-notch services at exceedingly competitive rates. The focal point of their practice is to ensure the precise and meticulous installation of your roof, strictly adhering to the manufacturer's specifications and prevailing codes. Promising unwavering support, Roofing For Less consistently delivers reliable installation services for both residential and commercial roofing across the Simcoe and Muskoka regions. The scope of their offerings extends to encompass the installation, repair, and maintenance of sidings, eaves, and more. Moreover, Roofing For Less is known for extending the convenience of free estimates and flexible financing alternatives. No matter if you find yourself in need of immediate emergency roof repair or a rain gutter installation, their expertise is readily available. Feel free to reach out to Roofing For Less, a name synonymous with quality and reliability, as they are poised to provide the assistance you require.

UNIQUE FACTS:
• 5-Year Labour Warranty
• (WSIB) and Liability Insurance
• Team of Experienced and Expert Technicians
• High-Quality Services
• Safety.
Specialty:
Roofing Repairs, Maintenance, Steel Roofings, Exterior Siding, Installation, Sidings, Eaves, Fascia and Soffit, Siding Eavestrough, Flat Roofing, Drone Inspections, Skylights & Sun Tunnels

Serving Locations:
Alliston, Angus, Barrie, Beaverton, Bracebridge, Bradford, Brechin, Collingwood, Cookstown, Gravenhurst, Huntsville, Innisfil, Midland, Oro, Penetang, Stayner, Stroud, Thornton, Utopia & Wasaga Beach
Contact:
Working Hours:
Mon-Fri: 9am - 5pm
Sat & Sun: Closed
TBR® Inspection Report: