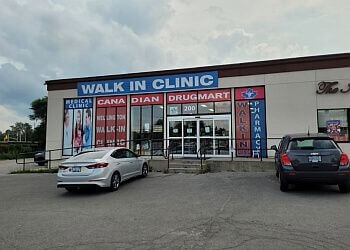 Wellington Walk-In Clinic is dedicated to providing essential healthcare services to their local community. As a walk-in clinic, they specialize in offering non-emergency medical services and treatments to patients who require urgent care. With a focus on proactive health measures, they provide vaccines, including flu shots, aimed at boosting immunization and preventing illness. For those planning to travel, Wellington Walk-In Clinic offers consultations, advice, and the necessary (recommended) medications. Their clinic is fully staffed and equipped to address a wide range of health concerns, ensuring top-notch patient care for individuals and families alike. Owned and operated by doctors, the clinic's commitment to excellence is evident through ongoing expansion and service updates, ensuring that patients' healthcare needs are consistently met. The clinic's expertise extends to administering location-specific vaccines, conducting medical assessments, offering travel guidance, and managing post-travel infections. By prioritizing comprehensive care, Wellington Walk-In Clinic remains dedicated to safeguarding the health and wellness of their community.

UNIQUE FACTS:
• Free Delivery
• Insurance Accepted
• Wheelchair Accessible
• Specialist referrals.
Specialty:
Sprains, Fractures, on Site Infections, Vaccines and Injections, Flushing, Immunization, Travel Clinic, Ear Cleaning, Minor Procedures, Lacerations, Burns, Treatment of Infection, Employee, Tetanus, Flu, Allergies, Insurance, Sports Physicals, Strep, Urine, STI, WSIB Services, B12, Medication Renewals, Bloodwork, X-Ray, MRI, CT Scan, Ultrasound & Bone Density Scan
Contact:
Working Hours:
Mon-Fri: 9am - 5pm
Sat: 10am - 4pm
Sun: Closed
TBR® Inspection Report: