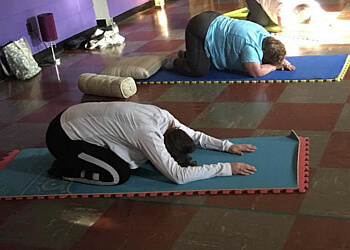 Your Yoga Sarnia stands as a highly acclaimed yoga studio situated in Sarnia. Within their establishment, they offer somatic movement classes geared towards enhancing your overall health and fitness. These classes provide an avenue for discovering relaxation through purposeful movement, facilitating a heightened awareness of distinct body regions. The studio places a premium on providing a personalized experience by maintaining limited class sizes, ensuring that ample individualized attention is extended to each participant. Emphasizing their role as a community-oriented yoga studio, they offer classes that cater to a diverse range of individuals. A distinguishing aspect of their approach is the provision of serene, one-on-one attention for both mothers and children, offering them an opportunity to experience relaxation on an individual basis. The instructor unequivocally believes that practicing yoga reaps manifold benefits for the human body, fostering a natural synergy between spiritual and mental well-being. Their joy is derived from sharing this passion and observing the symbiotic growth of both the mind and body as they evolve in unison.

UNIQUE FACTS:
• You Can Recieve the Best Experience
• Focus on Balance, Organic Movement
• Practise Somatic Flow Exercises
• Personalized Guidance.
Specialty:
Meditation, Beginners Yoga, Private and Group Beginner's Somatic and Movement Classes, Nidra, Yoga for Stress & Anxiety
$Price:
Drop in Rate per Class: $17.50
10 Class Pass: $150
4 Week Session: $65
5 Week Session: $80
6 Week Session: $96 YOGA NIDRA
Drop In: $20

Contact:
Working Hours:
TBR® Inspection Report: