Advanced Acupuncture & Herbs Clinic
Advanced Acupuncture & Herbs Clinic has garnered recognition as a prominent acupuncture clinic within Golden Court Plaza in Richmond Hill. Advanced Acupuncture & Herbs Clinic is one of the Three Best Rated® Acupuncture in Richmond Hill, ON.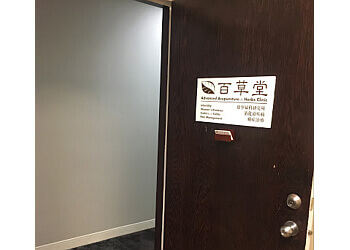 The clinic's inception can be attributed to Carolyn Ning Xu, a multifaceted individual serving as a Registered Acupuncturist, Registered Traditional Chinese Medicine Practitioner, and Registered Massage Therapist. Her academic journey led her to attain a Bachelor's and Master's Degree in Traditional Chinese medicine and acupuncture from Tianjin University of Chinese Medicine in China. Her accomplishments extend to encompass research endeavours in the realms of Chinese Medicine, Acupuncture, and Western Medicine. This dedication has culminated in her participation as a speaker at national and international professional conferences and the publication of numerous research papers in esteemed peer-reviewed journals. Carolyn Ning Xu is proficient in English, Mandarin, and Japanese and is equipped to communicate effectively with a diverse clientele. Their mission is underpinned by a commitment to establishing empathetic and healing partnerships with every individual who seeks their care. The clinic's primary objective centers on nurturing your health and your overall equilibrium through an extensive array of efficacious and holistic therapies. With a deep-rooted pride in utilizing natural acupuncture and traditional Chinese herbal medicine, the clinic stands as a stalwart advocate for these therapies in addressing a broad spectrum of health disorders.


Individual Constitution & Dynamic Progression
Friendly & Relaxed Environment.
Irregular Menses

Amenorrhea

Menstrual Cramps

Endometriosis

Dysfunctional Uterine Bleeding

Polycystic Ovary Syndrome

Pelvic Inflammation

Vaginal Infection

Urethritis

Tension Headaches

Recurrent Migraines

Miscarriage

Typical Facial Pain

Trigeminal Neuralgia

Bell's Palsy

Tennis Elbow

Gynecological Diseases

Cervicitis

Herpetic Neuralgia & Chronic Pelvic Region
Dr. Xu is patient, kind, and so wise. She has helped me so much with my abdominal pain. I have had the worst abdominal pain from adenomyosis/heavy bleeding during menstruation, and the acupuncture treatments have been a life saver. My gyno suggested I take medication or go on the birth control pill, which I did not want to do. Dr. Xu listened to my symptoms, and has been treating me with acupuncture, so that the pain is gone and I have relief finally. I also noticed I had better sleep, digestion, and felt more relaxed following acupuncture treatments with Dr. Xu. I would highly recommend Advanced Acupuncture!
I have hurt my shoulder while I am playing golf, went to Dr. Xu for treatment 3 times and get much improved. Dr. Xu is very knowledgeable and patient. The office is clean and efficient. I would highly recommend her.
Dr. Xu was such a pleasure to work with. She is very committed and passionate about helping her patients with their goals of treatment, and her expertise and knowledge are evident.
Mon-Sat: 12pm - 7pm
Sun: By Appointment
Nearby Acupuncture in Richmond Hill: