Be Well Acupuncture & Wellness Clinic
Be Well Acupuncture & Wellness Clinic is committed to helping families reach their full well-being potential. Be Well Acupuncture & Wellness Clinic is one of the Three Best Rated® Acupuncture in Sudbury, ON.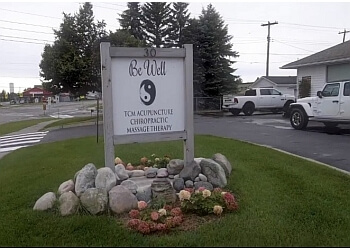 Crystal Best is a certified Acupuncturist in Traditional Chinese Medicine who holds a valid and respected status within the College of Traditional Chinese Medicine Practitioners and Acupuncturists of Ontario. Her dedication to her patients and continual thirst for learning and research have established her as one of Sudbury's most sought-after acupuncturists. Crystal has been practicing acupuncture since 2002. She has made it her life's mission to help patients restore their quality of life. Crystal Best began her acupuncture studies & training in Beijing, China, where she studied under TCM Chinese Masters. She is one of only a few professionally qualified and licensed Traditional Chinese Medicine (TCM) acupuncturists in the City of Greater Sudbury. She excels at treating various conditions and is a leader in her field. Crystal has also studied under great names such as Sir Anton Jayasuriya, Giovanni Maciocia & Debra Betts.


Over 20 Years of Acupuncture Experience
Online Appointment.
Acne

Adverse Reactions to Chemotherapy

Addictions

Allergic Rhinitis

Anxiety

Stress

Depression

Bell's Palsy/Trigeminal

Pain

Strains

Sciatica

IVF

Fertility

Pregnancy-Related Symptoms

Allergies

Asthma

Neuralgia/TMJ

Insomnia

Fibromyalgia/Chronic Fatigue

Headache/Migraine

Hypertension/Hypotension

Gout

Arthritis

Hot Flashes

Menopause

PMS

Cancer Pain/Related Symptoms & Digestive Disorders
Since my first visit with Crystal I have had immense improvement. The office is pleasant and relaxing. Crystal really takes her time to listen to your concerns / problems. She is very professional. I feel with a few more visits, I am well on my way to a much more "regular" hormonal / reproductive system as well as eliminating anxiety / depression symptoms while also reducing localized areas of pain.
So thoroughly enjoy going every week for acupuncture. Clinic is extremely clean all measures in place. Crystal has been wonderful for making sure your comfortable safe and well taken care of. Have chatted with the other theapy ladies and have always been made to feel like an honoured guest in their house of business.
I feel like I'm coming home when I see Marsha or Crystal. The treatments have reduced my back, neck, and shoulder pain; chronic sinus issues that happen during stressful times, and my health has improved this year! Love it here! Thanks, Marsha and Crystal for all your compassion and care!
Acupuncture Fee Schedule:
New Patient Initial Consultation & Acupuncture Treatment: $110
Follow-Up - Acupuncture Treatment: $55
Senior Follow-Up - Acupuncture Treatment: $55
Patient Reactivation Fee/Acupuncture Session: $65
In-Person/Phone Consultation/Assessment $35
Fee Increase as Of October 1/2023:
Follow-Up - Acupuncture Treatment $60
Patient Reactivation Fee/Acupuncture Session $70

Sudbury Community Votes Platinum Winner 2020, 2021 & 2022 - Sudbury Reader's Choice Award 2022
Mon-Thu: 9:30am - 6:30pm
Fri: 9:30am - 5pm
Sat & Sun: Closed
Nearby Acupuncture in Sudbury: