Inspiring Health Acupuncture Clinic
Inspiring Health Acupuncture Clinic is a beacon of holistic wellness in Sudbury, Ontario. Inspiring Health Acupuncture Clinic is one of the Three Best Rated® Acupuncture in Sudbury, ON.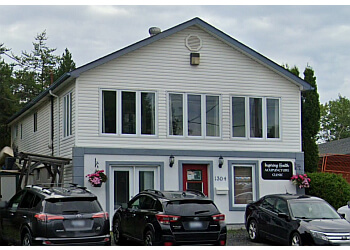 Natalie M Ramon is a dedicated practitioner in Traditional Chinese Medicine and a duly Registered Acupuncturist. At the Inspiring Health Acupuncture Clinic, Natalie M Ramon showcases her expertise. Holding a respected status as a Registered TCM Practitioner in Ontario under the auspices of the College of Traditional Chinese Medicine Practitioners and Acupuncturists of Ontario (CTCMPAO), her credentials underscore her proficiency. Natalie M Ramon's journey led her to complete a comprehensive 5-year program in Traditional Chinese Medicine, and she further enriched her skills through advanced training in acupuncture and herbal medicine in Cheng Du, China. In 2009, she established her clinic, which melds herbal medicine and various treatment modalities, including acupuncture, moxibustion, cupping, gua sha, and tui na. These modalities collectively guide her patients' bodies and minds toward equilibrium. Central to her approach is addressing the root causes of health concerns. With a steadfast commitment to the tenets of Traditional Chinese Medicine, Natalie M Ramon channels her efforts into treating the interconnected aspects of mind, body, and spirit. Her holistic perspective reinforces the belief in the synergy between these elements for comprehensive well-being.


Online Appointment
Produced on Average 10,000 Prescriptions per Day.
Angina

Hypertension

Acne

Eczema

Psoriasis

Bladder Dysfunction

Irritable Bowel Syndrome

Osteoarthritis

Rheumatoid Arthritis

Cardiovascular Disorders

Acid Reflux

Constipation

Diarrhea

Cough

Sinusitis

Trigeminal Neuralgia

Allergic Rhinitis

Common Cold

Incontinence

Menopause

Chronic Fatigue Syndrome

Diabetes

Thyroid Conditions

Morning Sickness

Bell's Palsy

Headache & Migraines
Natalie is so kind, personable, and will meet you where you're at. She always offers her best and weaves her knowledge and understanding of Chinese Medicine into your appointment, so you'll always walk away feeling better, more empowered, and like you're about to begin a journey of what it truly means to be healthy. She's got a lot of schooling, education, and experience with acupuncture [more than just a registered acupuncturist, and way more than the chiros and physios who practice dry needling], so if you want a holistic approach and understanding of 'why you feel the way you do', come see her! She's also great with herbs, so if your tired of supplements that are 'supposed to work' and want something that takes into account your constitution and unique presentation, you'll be in good hands.
I truly believe that Natalie has changed my life for the better. When you walk into her office you get a sense of peace. Her positive vibe is very contagious. She is very professional and always provides quality service. I notice a difference in my body with one treatment. Natalie is very knowledgable and she always provides me with solid advice and an amazing treatment.
Natalie Ramon has helped me deal with many health issues. Her knowledge about acupuncture and herbs is exemplary. She is always professional and is genuinely interested in her patients' well being. I am very grateful for the treatments as they have been so beneficial.
The initial consult - $145
Extended 90 minutes follow-up - $130
1-hour follow-up - $105
Facial rejuvenation initial Consult 2 hours - $175
Facial rejuvenation follow-up 90 minutes - $155

Nearby Acupuncture in Sudbury: