The Acupuncturist
The Acupuncturist emerges as a forefront acupuncture clinic situated in Sudbury, Ontario. The Acupuncturist is one of the Three Best Rated® Acupuncture in Sudbury, ON.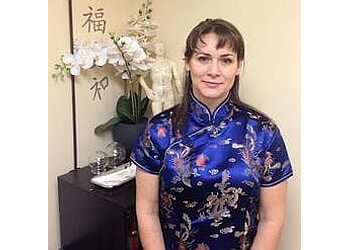 Their services include Tuina Massage, Cupping, Moxabustion, Guasha, Sports Therapy, PMS, Fertility & Pregnancy Care, showcasing their comprehensive approach. At the heart of this establishment is Beth-Anne Kucheran, a seasoned practitioner in Traditional Chinese Medicine (TCM) and a duly Registered Acupuncturist. Beth-Anne is consistently enthusiastic about sharing her wealth of education and knowledge, exemplifying her genuine commitment to fostering health preservation. Her dedication is manifested through a comprehensive 4-year training in classical studies within Traditional Chinese Medicine. Beth-Anne Kucheran specializes in providing treatments to restore physiological function and harmonize the balance between the body and mind. Beyond treatment, she champions the motivation and empowerment of individuals, encouraging them to actively take control of their physical, mental, and emotional well-being. This sense of empowerment is nurtured by cultivating a greater self-awareness of lifestyle behaviors and nutritional selections. The clinic is recognized by Veterans Affairs of Canada and Foreign Veterans Affairs, underscoring their approval and commitment to delivering specialized care to veterans.


Online Appointment
Evening and Weekend Appointments are Available.
Anxiety

Asthma

Strains

Sprains

Muscle Spasms

Heatstroke

IVF

Cravings

Colds

Flu

Fever

Weight Loss

Bronchitis

Fibromyalgia

Morning Sickness

Pregnancy-Related Issues

Labour Induction & Emotional Pains
Thank you so much Beth for the excellent experience. I really appreciate the care you provide and the nutrition and lifestyle recommendations. You are very compassionate and knowledgeable.
Beth is empathetic, knowledgeable and very effective. She has helped me with issues and reduced symptoms that were negatively impacting me.
Beth is super amazing at what she does . Highly recommend her. She is nice, kind and very helpful with treatments and knows her stuff.
Initial Consultation & Treatment 80 min - $90.00
Follow Up 50 min - $75.00 Follow Up
Follow Up Senior ( 62+) 45 min - $55.00
Birth Induction/Birth Prep/IVF Transfer 30 min - $55.00 Birth Prep starts at 37 weeks

Mon-Thu: 10am - 7pm
Sat: 10am - 12pm
Fri & Sun: Closed
Nearby Acupuncture in Sudbury: