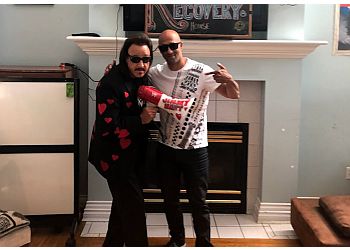 Andy Bhatti Interventions & Addiction Services ranks among the premier addiction treatment centers in the city. They specialize in providing 24-hour coaching to facilitate stabilization and support for individuals on the path to recovery. Their comprehensive services encompass one-on-one counseling. Distinguished by their team of seasoned interventionists and experts in substance abuse, they are particularly dedicated to assisting vulnerable youth. Andy Bhatti Interventions & Addiction Services is at the forefront of providing active support and treatment programs for addiction. A unique feature of their service is that they are the sole company offering interventions in Alberta that come to your location and work exclusively with your family to provide crucial support for your loved one's healthy recovery. They extend their effective addiction counseling and intervention services across the country. Addiction often leaves individuals feeling lost, depressed, isolated, and misunderstood. Professional counselors and interventionists aim to address these emotions by offering insights into the addiction and various approaches to understanding and overcoming it. The Centre serves the regions of Calgary, Vancouver, and Newfoundland. Recognizing that the cost of inpatient treatment programs can be a significant burden for families, they strive to provide essential support and services to alleviate this challenge.

UNIQUE FACTS:
• Professional Counsellor
• Punjabi Drugs & Alcohol Intervention
• Fentanyl Detox.
Specialty:
Drugs or Alcohol Addiction, Eating Disorders, Sex, Porn and Gambling Addiction, Mental Health Issues, Depression and Anxiety, Co-Occurring Disorders, Post Traumatic Stress Disorder, Sexual Abuse Counselling, Court Transportation, Treatment Transportation, Drug and Alcohol Testing, Gaming Interventions, Opiate Detox, Private Detox, , Alcohol Interventions & Codependency
Contact:
Working Hours:
TBR® Inspection Report: