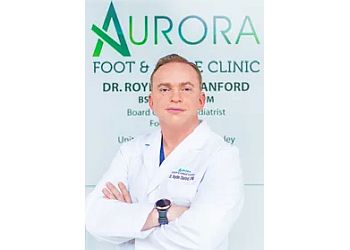 Dr. Royden Stanford emerges as a preeminent podiatrist within the Langley region. He is a board-certified podiatrist and Foot Surgeon, firmly establishing his expertise in Langley. Dr. Stanford's academic journey began at Brigham Young University, where he completed his undergraduate studies and earned a Bachelor of Science in 2004. His pursuit of excellence led him to attain a Doctorate in Podiatric Medicine from the Ohio College of Podiatric Medicine situated in Cleveland, Ohio, in 2008. Distinguished by his extensive training, Dr. Stanford underwent a comprehensive three-year surgical residency at the Cleveland Louis Stokes Veteran's Affairs Hospital in Cleveland. This training encompassed various areas, including Reconstructive Surgery, Plastic Surgery, Vascular Surgery, Trauma, Sports Medicine, Wound Care, Infectious Disease, and Limb Salvage. His proficiency extended to conducting elective surgical procedures at a group-owned Surgical Center located in Great Mills, Maryland. Dr. Stanford's commitment to excellence is reflected in his certification by the American Board of Podiatric Medicine and his membership in the Canadian Podiatric Medical Association. He has also achieved certification in HealogicsTM for specialized wound care. His practice finds its home at the Aurora Foot and Ankle Clinic, where he extends his expertise to benefit his patients. Beyond his clinical pursuits, Dr. Stanford has contributed as a co-author to published articles, highlighting his dedication to advancing the field.

UNIQUE FACTS:
• Over 15 Years of Experience
• They Use Cutting-Edge Information, Techniques, Products, and Technology.
Specialty:
CONDITIONS:
Heel Pain (Plantar Fasciitis), Sports Medicine, Pediatric Footcare, Calluses, Fractures, Fungus Toenails, Achilles Tendon, Ingrown Toenails, Athlete's Foot (Tinea Pedis), Bunions, Heel Spurs, Neuromas, Hammertoes, Custom Orthotics, Ankle Care, Arthritic Foot, Corns, Ankle Sprains, Injuries, Diabetes Foot Care, Toenail Fungus Removal, Warts & Flat Feet
Contact:
Working Hours:
Mon-Fri: 9am - 5pm
Sat & Sun: Closed
TBR® Inspection Report: