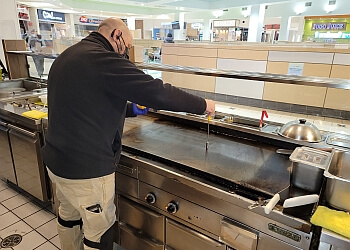 Unimaster Appliances & Food Equipment Services is a highly regarded Canadian company that has carved out a distinct niche in the industry by delivering exceptional home appliance repair and commercial food equipment services. At Unimaster Appliances & Food Equipment Services Inc., they are dedicated professionals specializing in Food Equipment and Appliance Repair. Their commitment is to provide top-tier repair solutions to both residential and commercial customers. Their primary mission revolves around delivering prompt and dependable service, to minimize downtime and extend the lifespan of your appliances. Their team of skilled technicians possesses the expertise to repair and maintain a diverse range of equipment, including cooking appliances and laundry machines. They understand the critical importance of minimizing downtime, which can result in lost revenue and customer dissatisfaction. Therefore, they are committed to providing swift and dependable service to mitigate any disruption to your operations and guest experience. They take pride in their competitive pricing, flexible scheduling options, and personalized approach to each project. This ensures that their clients receive the highest level of service and support tailored to their specific needs. Their team of skilled and versatile technicians handles each service, guaranteeing the safety and efficiency of your appliances. They boast the most talented team in the industry, offering competitive prices for their services. Unimaster Appliances is licensed to work with most appliance brands in the country, allowing them to perform repair services without voiding any appliance warranties.

UNIQUE FACTS:
• They Offer a Range of Services
• More than 15 Years in Business
•>360 5-Star Google Reviews
• 95% Repairs Completed in 1 Visit
• Book an Appointment on Online
• Five Years of Experience.
Specialty:
Refrigerators, Ovens, Dishwasher, Cooktops, Freezer, Fridge, Stove, Gas Installation, Washer, Dryer & Kitchen Appliance Repair
Discount:
5% discount when booking online (Use ONLINEBOOKING5 code) ​
Contact:
Working Hours:
Mon - Fri: 7am - 8pm
Sat: 8am - 12pm
TBR® Inspection Report: