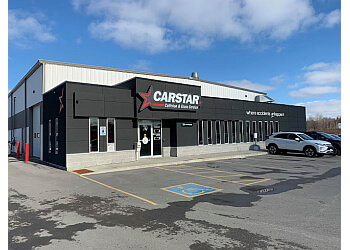 Carstar Stouffville is a reputable auto body shop renowned for its commitment to delivering the highest quality in auto body repair. Their certified technicians are actively engaged in ongoing education programs, ensuring they stay up-to-date with the latest advancements in vehicle technologies and materials. Distinguished by their versatility, Carstar Stouffville is equipped to repair all makes and models of cars, catering to a wide-ranging clientele. The shop specializes in a comprehensive range of services, including auto body, glass, and collision repair. Their dedication to excellence is further underscored by their commitment to customer convenience, offering services that range from 24/7 assistance to cost-effective paintless dent repair. Carstar Stouffville is well-equipped with the latest systems and technologies, ensuring they provide impeccable service in accordance with national safety standards. Their extensive capabilities extend to managing fleets of any size, encompassing communications companies, police, government agencies, private entities, car rental businesses, and corporations. To instill confidence in their clients, they offer a nationwide warranty and collaborate with most insurance companies, streamlining the claims process. Carstar Stouffville is committed to transparency and accessibility, exemplified by their provision of free estimates, towing services, and a network of over 300 locations across Canada and more than 650 throughout North America to serve you consistently and reliably.

UNIQUE FACTS:
• National Warranty
• Rental Car Assistance
• Fleet Services
• Highly Trained Technicians
• MPI-Accredited Repair Shop.
Specialty:
Repair: Auto Body, Paintless Dent, Direct Repair, Cosmetic, Auto Glass Replacement, Damage Appraisals & Mechanical Services
Contact:
Working Hours:
Mon-Fri: 8am - 5pm
Sat & Sun: Closed
TBR® Inspection Report: