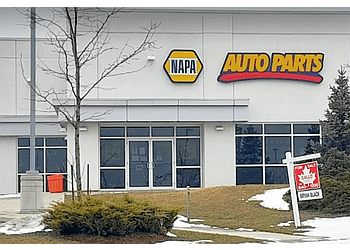 NAPA Associate Stouffville-NAPA Auto Parts is your one-stop destination for all your car and truck repair or maintenance needs in the Stouffville area. With a vast inventory containing over 500,000 top-quality parts, you can trust that they have exactly what you need. NAPA Auto Parts stores are renowned for their vast selection of top-quality parts that meet or exceed OEM requirements. Whether you need state-of-the-art paint products, body repair equipment, or supplies, they got you covered. NAPA Associate Stouffville also boasts a comprehensive paint-mixing system, advanced aerosol paint technology, and expert color-matching capabilities. This means they can provide a full range of top-notch paints, body products, and all the necessary tools and supplies to ensure your project is done to perfection. In addition to well-known brands like 3M, Norton, and Axalta, they proudly stock NAPA's private labels, including UltraPro, BodyPro, and MetalPro. Plus, for added convenience, they offer free shipping on orders totaling $100 or more.

unique Facts:
• Quick Home Delivery
• Expert Advice
• Pickup In-Store
• Discount Programs
• Online Appointments.
Specialty:
Air Brakes, Alternators and Starters, Batteries, Bearings and Seals, Belts, Hoses, Pulleys and Tensioners, Brakes, Climate Control, Drivetrain, Engine Heating and Cooling, Engine Parts and Gaskets, Exhaust, Exterior Accessories, Exterior Parts, Filters, Fuel and Emissions, Gaskets and Seals, Hybrid and Ev, Ignition and Engine Management, Interior Accessories, Interior Parts, Lighting and Electrical, Performance Parts, Performance and Custom Accessories, Steering and Suspension, Tire, Wheels and Accessories, Trailer and Towing, Transmission, Wipers and Windshield Products, Air Compressors and Accessories, Air Tools, Diagnostic Tools, Hand Tools, Lifting Equipment, Paint and Body, Power Tools, Safety Equipment & Service Tools
Contact:
Working Hours:
Mon-Fri: 8am - 5pm
Sat: 8am - 12pm
Sun: Closed
TBR® Inspection Report: