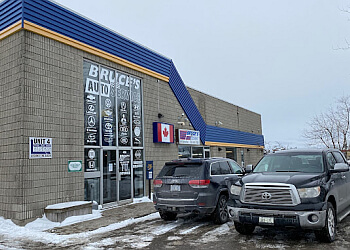 Bruce's Auto Service is your trusted destination for vehicle repairs and preventive maintenance, catering to all makes and models. Their primary commitment is to consistently provide exceptional service quality, achieved by fostering and nurturing strong customer relationships. This well-equipped mechanical workshop features the latest automotive equipment and a team of highly skilled and experienced mechanics. They are proficient in a wide range of automotive services, from routine maintenance to major repairs, ensuring your safety and the safety of your family while on the road. As specialists in engine diagnostics, they leverage cutting-edge computer analysis technology to identify and promptly address any issues your vehicle may be experiencing. Their comprehensive services include complete engine diagnostics and troubleshooting for engine warning lights. In addition to their expertise in engine diagnostics, they offer tire and wheel services, helping you select the most suitable options for your vehicle. Bruce's Auto Service is committed to delivering high-quality service at an affordable price, and they provide added convenience with a complimentary local shuttle service for their customers.

UNIQUE FACTS:
• Highly Skilled and Experienced Mechanics
• Well-Equipped Mechanical Workshop
• Qualified to Diagnose and Repair.
Specialty:
Automotive Air Conditioning Repair, Car Batteries, Charging and Starting, Car Brake, Car Maintenance, Computer Diagnostic Test, Electrical Diagnostics, Engine Cooling System (radiator), Exhaust, Muffler System, Fuel System, Oil Change Service, Starter and Alternator, Steering and Suspension, Tire Sales, Rotation and Wheel Balancing, Transmission Service, Tune Ups & Wheel Alignment
$Price:
Contact:
Working Hours:
Mon-Fri: 8am - 6pm
Sat & Sun: Closed
TBR® Inspection Report: