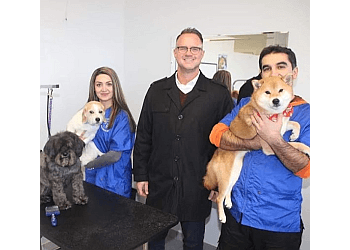 Golden Tails Grooming stands as a prominent pet grooming salon in Stouffville, dedicated to ensuring your puppy not only looks fantastic but also feels safe and stress-free throughout the grooming process. Their salon prides itself on providing a secure, serene, and hygienic environment for your pets. To uphold the highest standards of care, Golden Tails Grooming exclusively uses top-tier salon products tailored to various coat types and skin needs. They are committed to fostering an all-natural, healthy atmosphere for your beloved pets and have knowledgeable pet stylists who can assist you in selecting the right brushes and combs for your pet's specific needs. In addition to grooming, Golden Tails Grooming offers a range of engaging activities to keep your pup active and entertained until pickup. Their emphasis on creating a friendly and tranquil atmosphere ensures that your dog remains relaxed and stress-free throughout their visit. Their policies are consistently humane, with the best interests of all pets in their care at the forefront of their practices. Golden Tails Grooming is dedicated to delivering high-quality service and ensuring customer satisfaction for every client who walks through their doors.

UNIQUE FACTS:
• Quality Selection of Grooming Tools and Products
• Safe, Calm and Clean Environment
• Ensures Your Dog's Skin and Coat Remain Healthy and Mat Free.
Specialty:
Ear Plucking, Coloring, Flea Bath, Teeth Clean, Face and Tail Trim, Nail Trim, Nail Clipping, Hand Stripping, De-Matting, Blow Dry, Haircut & Brush Out
Contact:
Working Hours:
Mon-Sat: 9am - 5pm
Sun: Closed

TBR® Inspection Report: