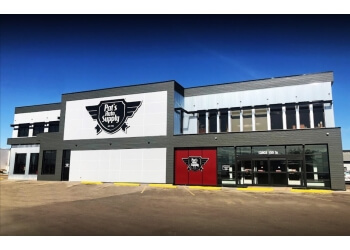 Pat's Auto Supply stands out as a leading supplier of vehicle components in the Peace River region. The store is committed to serving both wholesale and retail customers and their primary objective revolves around meeting the diverse preferences of patrons seeking top-notch auto parts from various reputable brands. Backed by a team of seasoned part experts, they stand prepared to address your individual retail or commercial requisites. Their inventory is impressively comprehensive, encompassing an array of durable parts and expendables spanning Belts & Cooling, Brakes, Chemicals, Electrical, Exhaust Systems, Filters, Fuel and Emissions categories. Exclusive to premium aftermarket selections, their offerings instill confidence in the superior quality of parts tailored for your vehicle. With an extensive stock of over 500,000 components featuring esteemed names like Moog, AC Delco, and more, Pat's Auto Supply facilitates convenient online reservations coupled with local store pickup, complemented by swift delivery services.

UNIQUE FACTS:
• Quality Parts
• Faststest Insatallation
• Full-Service Auto Repair
• Same-Day Service
• Curbside Pickup.
Specialty:
Brakes and Wheels, Chemicals, Climate Control, Drive Train, Electrical, Exhaust Systems, Filters, Fuel and Emission, Hardware, Light Industrial, Lighting, Oil and Lubricants, Accessories, Belts and Cooling, Paint and BodyShop Supplies, SuspensionTools & Equipment

Serving Locations:
Dawson Creek, Fort St.John, Hinton, Peace River & Grimshaw
Contact:
Working Hours:
Mon-Fri: 8am - 5:30pm
Sat: 9am - 4pm
Sun: Closed
TBR® Inspection Report: