Allan Marshall & Associates Inc
Allan Marshall & Associates Inc. Allan Marshall & Associates Inc is one of the Three Best Rated® Bankruptcy Trustees in Halifax, NS.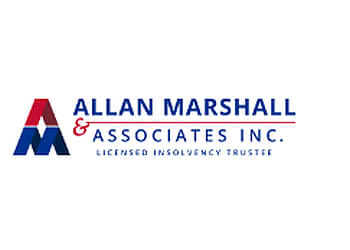 , situated in Halifax, operates as a reputable firm under the auspices of a Licensed Insolvency Trustee. Specializing in debt solutions and credit counseling services, the company is dedicated to assisting individuals in Eastern Canada and Alberta in their pursuit of debt-free status. At the helm of Allan Marshall & Associates Inc. is Allan D. Marshall, serving as both the Licensed Insolvency Trustee and President. Endowed with authorization from the Federal Government of Canada, the firm holds the authority to administer an array of services, including bankruptcies, consumer proposals, and receiverships, among other insolvency-related matters. Their adept team concentrates in navigating debt challenges through a spectrum of statutory and non-statutory alternatives, tailored to the needs of individuals as well as small to medium-sized businesses. Furthermore, the firm's dedicated debt professionals are committed to aiding you in achieving the objective of financial freedom, ensuring you are equipped with the optimal pathway forward.


14 Office Locations
Experienced Trustees
Free Parking
Wheel Chair accessible
Free Consultation.
Credit Counseling

Personal Bankruptcy

Payday Loans

File Bankruptcy

Unsecured Creditor

Debt Consolidation Loan

Filing a Consumer Proposal

Informal Debt Settlement

Income Tax Debt

Spending Plan & Debt Recovery
I was so anxious about my debt but kept on putting off calling a trustee because I was embarrassed and thought that I would be looked down on and judged. I was SO wrong. I finally made the call and I am so glad I did. Everyone - initial intake person, the reception, Francyne, and Kim were great and made me feel so relieved. If anyone is in a financial trouble, or even think they are, give them a call or email, and check out your options, you'll be glad you did. It feels great to be able to breathe without being so stressed again.
If I ever need a trustee's help again it will DEFINITELY be from MaryAnn Marriott with Alan Marshall & Assoc. Not only did she assist us with getting out of a year and a half long mess after my father's passing she was able to finally relieve the stress that came along with it. Mary Ann knows her stuff and I HIGHLY recommend! Thank you very much Mary Ann!
Matt was amazing. He made the process very simple and easy. I left our consultation confident and felt a weight leaving my shoulders. I wish I could give more than 5 stars.
Mon-Sat: 9am - 9pm
Sun: Closed
Nearby Bankruptcy Trustees in Halifax: