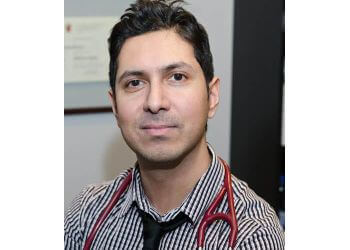 Dr. Rajesh Hiralal emerges as a premier cardiologist in Surrey, dedicated to delivering the most thorough cardiovascular services to his patients. Dr. Rajesh Hiralal practices at Surrey Heart Clinic, an establishment driven by the vision of offering refined and tailored cardiac care to each individual. Their approach integrates the finest medical practices and state-of-the-art technology, reflecting their commitment to excellence. Central to their focus is the prevention of heart disease and the adept treatment of patients facing heart-related medical concerns. With unwavering dedication, their team and staff diligently strive to provide unmatched cardiovascular care. Their overarching goal is enhancing your quality of life through an encompassing care approach that adapts to your unique requirements. The clinic specializes in expert diagnostic and consultative services within the realm of Cardiology and Heart Disease Diagnostic Services. Their steadfast commitment to remaining up-to-date with the latest knowledge and technology underscores their commitment to delivering optimal care. To facilitate effective communication, their clinic members are proficient in English, Punjabi, and Hindi, ensuring that patients can comfortably express their concerns and needs.

UNIQUE FACTS:
• Comprehensive cardiovascular care
• Up to date with the latest technology
• Team of top healthcare professionals.
Specialty:
CONDITIONS:
Cardiovascular Consulting, Electrocardiography, Holter Monitoring Testing, Exercise Stress Testing & Chest Pain Treatment
Contact:
Working Hours:
Mon-Fri: 8am - 4:30pm
Sat & Sun: Closed
TBR® Inspection Report: