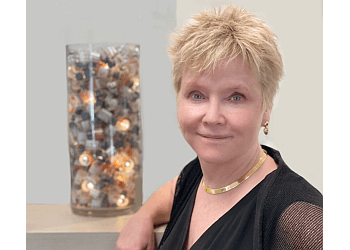 Dr. Amanda P. Maloney is a seasoned general otolaryngologist in Surrey, BC. She boasts an impressive nineteen-year tenure in her field of expertise. Her medical and specialized training was at the esteemed University of British Columbia. Among her diverse offerings, she is adept in providing treatment utilizing neuromodulators such as Botox and Nuceiva and proficiently administering dermal fillers. She is a respected member of the Canadian Academy of Aesthetic Medicine. Additionally, she is a Diplomat of the American Board of Otolaryngology and the Royal College of Surgeons of Canada. Her treatment philosophy uses minimally invasive procedures designed to provide effective results and prioritize patient comfort and safety. Her professional practice is based at Fraser Valley ENT, where her expertise enhances ear, nose, and throat health. Furthermore, she extends her expertise to Triniti Laser Clinic in New Westminster, ensuring wider accessibility to her specialized services.

UNIQUE FACTS:
• Languages spoken: English
• Practice type: Specialty practice: otolaryngology-head and neck surgery
• Certification: Royal College of Physicians and Surgeons of Canada
• State-of-the-art practices in Aesthetic Science
• Treatment plans tailored to your personal goals
• Minimal intervention with optimal results
• Surgical precision with a gentle touch
• Request a Consultation.
Specialty:
Mouth Sores, Laryngopharyngeal Reflux, Migraine, Tinnitus, Dizziness, Headache, Vertigo, Ear Infections, Neck Pain, Nasal Breathing Issues, Ear Tubes, Snoring & Sleep Apnea Disorders
Contact:
Working Hours:
Mon-Fri: 8:30am - 4:30pm
Sat & Sun: Closed
TBR® Inspection Report: