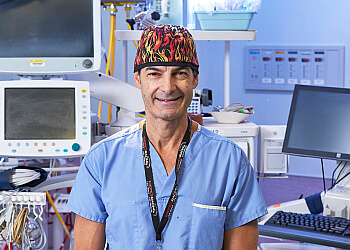 Dr. Charalombas Andreou stands out as a prominent figure among urologists in Surrey, heralding a commitment to deliver unparalleled standards of excellence in urology and kidney conditions. He earned his Bachelor of Science and medical degree at the University of Alberta with a year of general surgery training before specializing in urology. He finished his urology training at the University of British Columbia before beginning his practice at Surrey Memorial Hospital in 1997, treating several thousand male patients every year. Dr. Charalombas Andreou navigates the intricacies of general urology adeptly and warmly extends an invitation to engage, whether with inquisitive queries or lingering concerns. His overarching mission encapsulates the assurance of quality care within a contemporary and welcoming setting where modernity harmonizes with comfort. Dr. Charalombas Andreou employs cutting-edge diagnostics and embraces advanced treatment methodologies, all calibrated to be in harmony with your specific requirements. Dr. Charalombas Andreou's proficiency in English ensures seamless communication, bridging any linguistic gaps and nurturing an environment of clarity and understanding. In the realm of urology, his presence shines not only as a physician but as a beacon of exceptional care and compassion. He is a member of the Canadian Urologic Association, the American Urologic Association, former head of surgery at Surrey Memorial Hospital and the current head of urology at Surrey Memorial.

UNIQUE FACTS:
• Over 25 Years Successfully Treating Over 80,000 Men
• Member of The Bc Urologic Association
• Board-Certified Urologist.
Specialty:
CONDITIONS:
Erectile Dysfunction, Incontinence, Stone Disease (Kidney Stones), Benign Prostatic Enlargement (BPH), Prostate Cancer and Bladder Cancer

PROCEDURES:
Vasectomy Reversals, Rezum Procedure for BPH, Minimally Invasive Surgery, Blue Light Laser for Bladder Cancer, Green Light Laser for BPH & Kidney Stone Treatment
Contact:
Working Hours:
Mon-Fri: 8:30am - 4pm
Sat & Sun: Closed
TBR® Inspection Report: