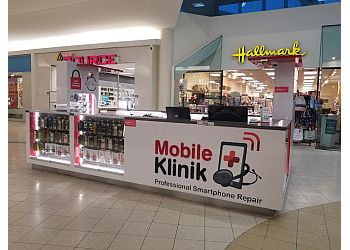 Mobile Klinik Professional Smartphone Repair. Belleville, Canada, stands as one of the city's premier and most accredited cell phone repair establishments. Their team comprises highly qualified and expert technicians, renowned for their prowess in cell phone repair. This dedicated team not only excels in repair but also offers a diverse selection of certified pre-owned devices, along with a secure mobile backup service for all repair transactions. The shop boasts a dependable and skilled staff capable of handling cell phones of all makes and models with ease. Mobile Klinik is committed to delivering efficient services at affordable rates, emphasizing quality and affordability. They take pride in providing complimentary quotes for all their cell phone repair services, and their impressive repair time is often within 60 minutes or less. Furthermore, all devices serviced by Mobile Klinik come with the assurance of a Mobile Klinik warranty. To further enhance customer convenience, they offer a free quote service and facilitate device repair through their online courier partner. Additionally, they provide online chat support on their website, making it easy for customers to seek assistance and information.

UNIQUE FACTS:
• Expert technicians
• Over 500K happy customers.
Specialty:
iPhone, iPad, Android, Tablet, Samsung, Blackberry, Huawei, Motorola, Water Damage Problem, LG Repair, Screen, Liquid Damage, Power/Charge Problems, Trackpad, Keyboard, Volume Button, Diagnostic, Battery, Frame, Speakers, Glass & Mic Replacement
$Price:
Screen:
iPhone 8 Plus - $149
iPhone 8 - $139
iPhone 7 Plus - $149
iPhone 7 - $139
Battery:
iPhone 8 Plus - $105
iPhone 8 - $105
iPhone 7 Plus - $105
iPhone 7 - $105
Charge Port:

iPhone 8 Plus - $99
iPhone 8 - $99
iPhone 7 Plus - $99
iPhone 7 - $99

Contact:
Working Hours:
Mon-Fri: 10am - 8pm
Sat: 9:30am - 6pm
Sun: 11am - 5pm
TBR® Inspection Report: