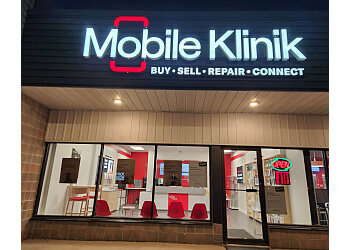 Mobile Klinik Kingston is a renowned destination for top-notch cell phone repairs in the region. Their expert technicians are proficient in repairing cell phones, computers, and gaming consoles. You can place your trust in these certified technicians to handle all your cell phone repair needs with precision. At Mobile Klinik, your device undergoes a thorough testing and inspection process to ensure it is restored to its full functionality, preserving the features you cherish. To guarantee the highest quality, they exclusively use premium parts in their repairs, and most of these come with a lifetime parts warranty. They are committed to providing you with the best service, evident in their hassle-free lifetime warranty. Mobile Klinik offers smartphone repair services to fix unsightly back glass cracks. Additionally, Mobile Klinik offers a selection of phones and accessories for sale. Each phone undergoes a meticulous 64-point inspection by expert technicians and is backed by a 1-year warranty for your peace of mind. Be sure to explore their in-store exclusive special offers on both their services and products. Initiating the process of getting a free quote and diagnosis is easy, just visit their website. Mobile Klinik Kingston is your one-stop destination for all things related to cell phones and beyond, offering unparalleled service, quality, and value.

UNIQUE FACTS:
• Mail-in repair service
• Free Shipping on repairs over $100
• Over 500K happy customers
• Data security
• Eco friendly.
Specialty:
iPhone, Samsung, Google, iPad, Tablet, Computer, Game Console, Back Glass, Screen Combo, Charge Port, Camera, Button, Speaker and Microphone Repair, Software Troubleshooting, Data Recovery, Virus and Malware Removal, Logic Board Repair, Digitizer, Backlight, Unlocking Services, Bent Frames, Device Cleaning and Maintenance, Accessories & Parts
$Price:
Back Glass / Housing: S21 Ultra $139 Note 20 Ultra $149 Screen:
iPhone 7 $139
iPhone 8 $139
iPhone 8 Plus $149
S20+ $439
Note 20 Ultra $499
A14 $199
Pixel 4 XL $299
Pixel 7 Pro $399
Battery:
iPhone 8 Plus $59

iPhone 7 Plus $59
iPhone 12 Pro Max $99
Note 20 Ultra $119
A13 $149
ZFOLD 3 $129
Pixel 7A $119
Pixel 7 Pro $279
Screen Combo:
ZFOLD 4 $1,049
ZFLIP 4 $849
ZFOLD 3 $759
Pixel 4A 5G $299
Pixel 3 $229
Charge Port:
S21 Ultra $139
iPhone 12 Pro Max $139
Pixel 3a $99

Discount:
Contact:
Working Hours:
Mon-Sat: 9am - 7pm
Sun: 11am - 5pm
TBR® Inspection Report: