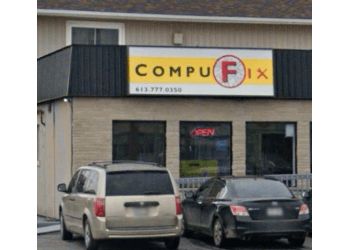 CompuFix, a trusted establishment in the Kingston area for over a decade, is dedicated to swiftly restoring your computer's functionality. Whether your issue lies in software or hardware, they possess the expertise to resolve it. To instill confidence in their services, CompuFix offers a warranty, ensuring the safety of your devices under their care. They prioritize customer satisfaction and excellence, providing the utmost value for your investment. Their skilled technician employs professional virus cleaning software and protocols to eliminate infections efficiently. CompuFix is committed to expeditious repairs, with same-day services as an option. Their proficiency extends to repairing devices of various sizes, shapes, models, and purposes, and they also offer wholesale parts for sale.

UNIQUE FACTS:
• Free Diagnostics
• Low Price Guarantee
• Premium-Grade Components
• Quick Turnaround.
Specialty:
General Software Install, iPods Repairs, Screen Replacement, Hardware Cleanup, PC, Laptop, Hard Drive Replacement, Linux, Recovery, OSX, OS, Format and Reinstall (Windows, Smartphones, Data Save, Virus Clean-Up, Keyboard, TrackPad, Graphic Card (GPU), Mac, Cell Phone & Tablets Repair
$Price:
Data Save: $45 - $65
Virus Clean-Up: $120 / up
General Software Install: $40 / up
OS Install: $95
1 TB Hard drive Replacement: $149.99
Approx ~ 256 GB Solid State Drive Replacement: $149.99

Contact:
Working Hours:
Mon-Fri: 10am - 4:30pm
Sat: 11am - 3pm
Sun: Closed
TBR® Inspection Report: