Dr. Gursharan Dhaliwal - BELMONT DENTAL CENTRE
Dr. Gursharan Dhaliwal - BELMONT DENTAL CENTRE is one of the Three Best Rated® Dentists in New Westminster, BC.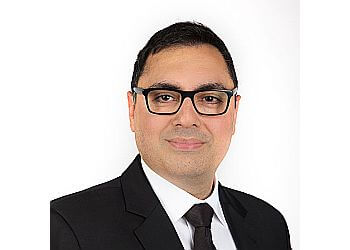 Dr. Gursharan Dhaliwal is a highly skilled dentist with extensive experience, having earned his first dental degree from Belgaum University in 1997, followed by his Doctor of Dental Surgery in 2002. He is deeply committed to continuing education, a belief that allows him to offer his patients the most appropriate care. Additionally, Dr. Dhaliwal serves as a part-time faculty member at UBC. Dr. Gursharan practices at Belmont Dental Centre, where their unwavering dedication is to create a friendly, gentle, and comfortable atmosphere for their patients while delivering exceptional care. This dental clinic in New Westminster is firmly rooted in its commitment to providing top-quality service. It excels in its philosophy of becoming a healthcare provider characterized by honest and open communication. Beyond English, their ability to engage with patients extends to languages such as Italian, Farsi, Cantonese, Mandarin, Bulgarian, Hindi, Gujarati, Punjabi, Tagalog, and Russian, ensuring effective communication and a personalized approach to care.


Accepts New Patients
The Clinic Is Open Seven Days a Week, with Extended Hours.
CONDITIONS:
Tooth Removal and Sedation

PROCEDURES:
Tooth Coloured Fillings

Root Canal Therapy

Bonding and Veneers

Crowns and Bridges

Bone Grafts

Gum Grafts

Dental Implants

Dentures

Whitening & Full Orthodontic Treatment
I was looking for a dentist in New Westminster for my dental implant .My friend recommended this dental dental clinic in new west to me. My first impression was really good the office is very modern and clean. Dr Dhaliwal and whole staff are very friendly and helpful.I am happy that I choose Belmont Dental Centre New Westminster.
I was looking for a dentist in New Westminster.Someone highly recommended me to go see dr Dhaliwal at Belmont Dental Centre New Westminster .I had really bad tooth pain for almost a week. I was unable to talk and eat anything and my jaw was swollen .Dr Dhaliwal is so nice aand caring.He fully explained what is going on with my tooth and offered the best treatment to fix my tooth.I am out of pain now and I really thankful to the whole team for helping me out in the tough situation.I would highly recommend this dentist in New west clinic .Thanks again.
Had a great and seamless experience getting my treatment. The staff were wonderful and helpful. Would highly for a hassle free and worry free visit to the dentist
Mon: 8am - 5pm
Tue: 8am - 5:30pm
Wed: 8am - 6pm
Thu: 8am - 7pm
Fri & Sat: 9am - 6pm
Sun: 10:30am - 5pm
Nearby Dentists in New Westminster: