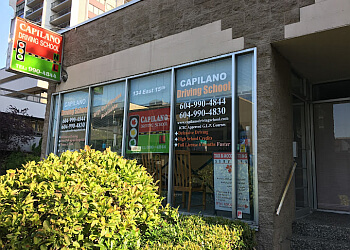 Capilano Driving School places a strong emphasis on teaching defensive driving strategies to individuals of all skill levels, catering to everyone from novice drivers with zero experience to professionals aiming to hone advanced driving skills. Situated conveniently across the street from the North Shore Multicultural Society and merely two blocks from ICBC, Capilano Driving School holds the distinction of being an ICBC-approved Graduated Licensing Program (GLP) facility. To enhance convenience for their students, they provide complimentary pickup and drop-off services, either at school or home, for in-car lessons. Capilano Driving School equips its training vehicles with both automatic and standard transmissions, featuring dual-control mechanisms for safety. They offer flexible instructional hours at competitive rates and even extend their services to include assistance with road test bookings and providing vehicles for the ICBC road test.

UNIQUE FACTS:
• Free Pick up And Drop-Off
• Gift Certificates
• Car Available for Road Test
• High Pass Rate.
Specialty:
Defensive Driving, Road Test Preparation, Automatic and Standard Transmission, ICBC Approved GLP Courses, 20 Hours Classroom Instruction, In-Car Training, Convert a Foreign Drivers License into a BC Drivers License, Refresher, Single Lesson & Packages

Serving Locations:
North Shore, Burnaby & Vancouver
$Price:
GLP Package a $1349+GST
GLP Package B $1569+GST
1 Lesson (1.5 Hrs In-Car) 115$+GST
4 Lessons (6 Hrs In-Car) $440+GST
6 Lessons (9 Hrs In-Car) $660+GST
10 Lessons (15 Hrs In-Car) Plus 1 Free Lesson (1.5 Hrs) $1150+GST
15 Lessons (22.5 Hrs In-Car) Plus 2 Free Lessons (3 Hrs) $1725+GST
Standard Transmission Lesson (1.5 Hrs In-Car) $140+GST
Road Test Package $150+GST

Contact:
Working Hours:
Mon-Sat: 9:30am - 4:30pm
Sun: Closed
TBR® Inspection Report: