604 Driving School Ltd.
604 Driving School Ltd. 604 Driving School Ltd. is one of the Three Best Rated® Driving Schools in Richmond, BC.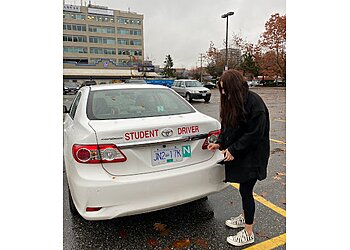 in Richmond is a reputable and trusted institution that stands out in the realm of driver education. With its commitment to providing top-notch training and guidance, this school has earned a stellar reputation among learners and the community alike. Their team of experienced instructors is dedicated to imparting not only the essential skills for safe and confident driving but also instilling a strong sense of responsibility and awareness on the road. Whether you're a novice driver looking to obtain your first driver's license or seeking advanced training, 604 Driving School Ltd. in Richmond is known for its personalized instruction, flexible scheduling, and a welcoming environment that fosters both learning and growth behind the wheel. This school truly goes the extra mile to ensure their students become safe, competent, and responsible drivers.


License & Certified Driver Training Instructors
Registered Driving School and Bonded.
Road Test

Class 5 and 7

12

1 and 1.5 Hours Classes & Practical Classes


Road Test

Class 5 and 7

12

1 and 1.5 Hours Classes & Practical Classes
Burnaby Mountain

New Westminster

Surrey & Vancouver
Thanks to my instructor Gina I Passed my road test, she is knowledgeable and patience. I'm a very busy mom of 2 babies and she was so understandable and flexible with the schedule. I highly recommend 604 driving school they don't care about the money their main focus is you to get the skills to pass your road test, they care about you get all the knowledge and techniques and to be ready to pass the test. If you need to get your license highly recommended to invest and get lessons from them. Thank you 604 and Gina! I'm so happy I found this driving school.
I had Gina as my instructor, who was absolutely phenomenal, super supportive and reassuring, especially when I started off as an anxious student. She's incredibly calm, friendly, and very knowledgeable on what to expect on the driving exam. She explains things very clearly, even with a whiteboard if you're a more visual learner. Thanks to her, I passed the class 7 exam on my first try, I would highly recommend!
I passed my Road Test with Edward's helped. He's very patient and just amazing in teaching me how to do every maneuver, gives very detailed instructions, things I need to observe while driving and most of all he taught me how to be confident behind the wheel. I highly recommend this guy! Thanks Edward!
1 Hour $80
1.5 Hours $115
Package of 12 Hours $920
Car Rental for Road Test $190

Nearby Driving Schools in Richmond: