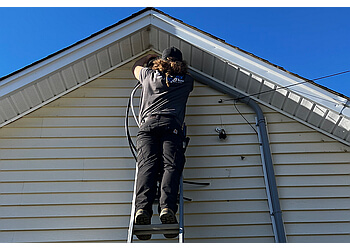 Bostick Electric is a family-owned and operated business, and they take great pride in delivering exceptional customer service and craftsmanship. Their unwavering dedication is to offering top-tier electrical services to both the city and its neighbouring areas. Their team of highly experienced electricians is fully devoted to finding the best solutions for all your electrical requirements. Safety is their paramount concern, and they consistently take every precaution to ensure the safe and efficient execution of their work. All their technicians are rigorously trained in the latest safety standards and industry best practices. Furthermore, alongside their steadfast commitment to safety, Bostick Electric is also dedicated to staying at the forefront of technology and employing the latest techniques in their field. They are deeply committed to sustainability and strive to minimize their environmental impact to the greatest extent possible. They are honoured to be recognized as a trusted and reputable name in the electrical contracting and service industry in New Brunswick, and they eagerly anticipate continuing to serve their community for many more years to come.

UNIQUE FACTS:
• Fully Insured & Licensed
• Free Estimates
• Quality Results
• Prompt Service
• Budget Friendly Services.
Specialty:
Residential and Commercial Services, Electrical Panel Upgrades and Inspections, Renovations, Repairs and Service, Generator Panel Installations, Solar Sales and Installation, EV Charging Stations, New Construction, Energy-Efficient Lighting Upgrades and Retrofits, Repairs & Maintenance
Contact:
Working Hours:
Mon-Fri: 8am - 5pm
Sat & Sun: Closed
TBR® Inspection Report: