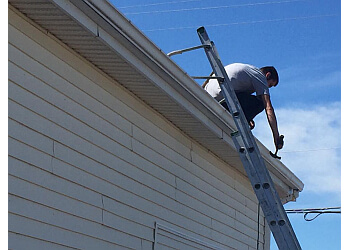 River Valley Eavestrough Inc. is a prominent gutter cleaning company located in Fredericton. They offer a comprehensive selection of prompt and dependable gutter services at an affordable rate. Their team specializes in eliminating the dry debris and blockages that frequently plague ordinary gutters. They are equipped to address all your installation and gutter replacement requirements, including soffit needs such as soffit ventilation. River Valley Eavestrough Inc. strongly emphasizes using top-of-the-line equipment to ensure that every task is executed flawlessly. The team of experts based in the local area can promptly arrive, efficiently evaluate the issue, and provide an economical solution. They craft an outstanding client experience by consistently prioritizing client interests and needs.

UNIQUE FACTS:
• Free Consultation
• Full Guarantee
• By Appointment only
• Email Money Transfer
• Competitive Prices
• Available for Call Outs at Any Time
• Accept Cash, Cheque, Credit Card.
Specialty:
Eavestrough Installation, Soffit, Gutter, Fascia, Leaf Guard & Siding
$Price:
Eavestrough Installation $6.50 per linear foot
Leaf Guard Installation $4 per linear foot
Siding Installation $125 a square
Fascia Installation $6.50-$10 linear foot
Soffit Installation $8 linear foot

Contact:
Working Hours:
TBR® Inspection Report: