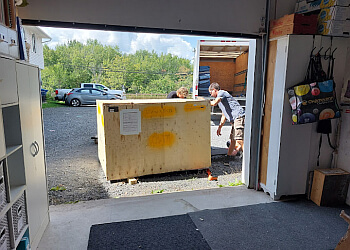 Smart Moving and Storage is a reputable independent moving company headquartered in Fredericton, New Brunswick, with a history of over 25 years in the moving industry. Distinguished by their fleet of large, fully equipped 5-ton trucks, they can seamlessly relocate your entire household. At Smart Moving and Storage, they pride themselves on their commitment to tailoring packages and pricing to suit each customer's unique needs. They offer expert packing services and a comprehensive office and household supplies selection. Furthermore, they can accommodate your short-term and long-term storage requirements as you transition to your new home or office space. Their primary objective is to provide a transparent, secure, comfortable, and effortless moving experience, with a relentless dedication to safety throughout the process. This company is synonymous with dependable and affordable staffing solutions backed by years of expertise. They have solidified their position as one of the foremost specialized moving companies, excelling in both local and long-distance relocations, with an unwavering emphasis on ensuring the utmost safety throughout the journey.

UNIQUE FACTS:
• Online Estimates
• Stress out Of Moving
• Professionally-Trained Staffs
• Secure and Clean.
Specialty:
Pianos, Household, Moving Supplies, Packaging, Storage, Specialty, Business Moving, Restaurant Equipment, Appliances, Collectibles, Home Moving Rental Re-Location & Apartment
Contact:
Working Hours:
Mon-Fri: 8am - 5pm
Sat: 8am - 3pm
Sun: Closed
TBR® Inspection Report: