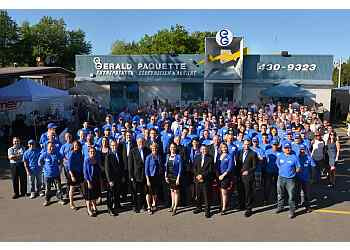 Gérald Paquette Entrepreneur Électricien & Associés Inc is a professional electrical service in Mirabel. Their estimators have nearly 20 years of experience in preparing proposals and electrical installations. They have the flexibility to carry out your projects, regardless of their size, with their team of a hundred electricians. They have a group of 100 well-trained electricians and knowledge, having the flexibility and ability to complete the projects safely, regardless of their size. They offer a customized and comprehensive solution to their customers, and the team completes the job efficiently and promptly. They provide a complete and personalized service that meets the needs of their customers while maximizing the service provided. Their experience, combined with a selection of quality products, allows offering solutions within their budgets. They are available 24/7 for urgent breakdown service needs.
Specialty:
Maintenance, Post-Disaster Repair, Pumping Station, Street Lamps Installation, New Construction, Commercial and Institutional Service, Renovation, Expansion, Redevelopment, Warehouses Wiring & Turnkey Service.
Serving Locations
Laurentians, Lanaudière, Laval, Montreal, Outaouais & Montérégie.
Contact:
Working Hours:
TBR® Inspection Report: