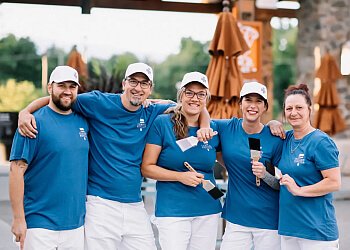 Peinture Marcil inc. is a renowned painting company that has gained recognition for its exceptional services. The company is fully licensed in compliance with the requirements set forth by the Régie du Bâtiment de Québec and also maintains civil liability insurance. Their journey began in 2009 when they decided to utilize their expertise and extensive experience to establish their own painting enterprise. Over the years, Peinture Marcil inc. has developed a strong presence in the industry, specializing in residential, commercial, and institutional painting projects. The company has earned a sterling professional reputation by prioritizing customer satisfaction and building trust with their clients. They are particularly adept at executing high-end finishing work and consistently deliver superior-quality results. The professional painters at Peinture Marcil inc. have dedicated themselves to their respective roles in the commercial and residential sectors for an extended period, making them experts in their field.

UNIQUE FACTS:
• Free Estimates
• 10+ Years in Business
• Specialist in High-End Finishing Work
• Accurate Price
• Guaranteed Quality.
Specialty:
Residential, Commercial and Institutional Services, Ceiling Steel Deck, Disaster Recovery, Varnish, Interior and Exterior Painting, Epoxy Painting, Minor Repair of Plaster, Stain & Application of Roller Paint

Serving Locations:
Saint-Eustache, Blainville, Boisbriand, Sainte-Thérèse, Deux-Montagnes, Laurentides & Montreal
Contact:
Working Hours:
Mon-Fri: 8am - 6pm
Sat & Sun: Closed
License RBQ: #5784-5281-01
TBR® Inspection Report: