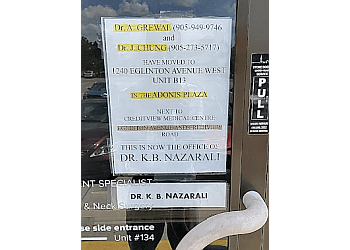 CALL
DR. AMANDEEP GREWAL
Since 2009
Dr. Amandeep Grewal is a highly regarded ENT specialist based in Mississauga. He completed his education at The University of Western Ontario and has since become an expert in various ear, nose, and throat disorders. Dr. Grewal's areas of expertise include sinus, parathyroid, and salivary gland surgery, as well as surgical interventions for hearing issues. His distinguishing qualities are his proactive and preventative approach to treatment. He aims to minimize the likelihood of future ENT complications for his patients. Dr. Grewal is at the forefront of using cutting-edge technology in the field of Otolaryngology, ensuring evidence-based results and delivering top-notch care. He practices at several esteemed hospitals, including Trillium Health Partners-Mississauga Hospital in Mississauga, Trillium Health Partners-Queensway Health Centre in Toronto, and Trillium Health Partners-The Credit Valley Hospital in Mississauga. Dr. Amandeep Grewal's expertise, dedication, and commitment to providing the best possible care have made him a respected and sought-after ENT specialist in the Mississauga area.

UNIQUE FACTS:
• Medical services are covered by OHIP
• Medical referral required
• Free Parking: Accessible for patients with special needs
• Wheelchair Accessible.
Specialty:
Head and Neck-Surgery, Ear Tubes, Laryngology and Vocal Cord, Nose-Surgery, Reconstructive or Aesthetic, Parathyroid, Salivary Gland, Septoplasty, Sinus, Surgery for Hearing, Thyroid, Tonsillectomy and/or Adenoidectomy, Vertigo, Bone/Soft Tissue Grafting, Facial Plastic Surgery & Otoplasty
Contact:
Working Hours:
Mon-Thu: 8am - 3pm
Fri: 8am - 12pm
Sat & Sun: Closed
TBR® Inspection Report: