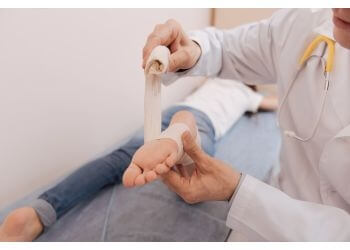 CALL
DR. ELAINE SOUCY
Since 1992
Dr. Elaine Soucy is a highly esteemed rheumatologist known for her expertise in the field. She obtained her medical degree from the University of Montreal in 1992, showcasing her extensive medical training and knowledge. Her practice is her commitment to understanding her patients thoroughly. She takes the time to document their backgrounds and medical histories, ensuring she comprehensively understands their health concerns. Based on this information, she provides her patients with various options to resolve their issues, empowering them to make informed decisions about their healthcare. Her dedication to delivering the best possible patient experience is evident in her approach to care. Her friendly demeanor and caring nature make her clients feel comfortable during treatments. With fluency in French and English, Dr. Soucy ensures effective communication and understanding with her patients, creating a positive and inclusive healthcare environment. She holds hospital privileges at Trillium Health Partners-Credit Valley Hospital, making her services easily accessible for those seeking rheumatological care.

UNIQUE FACTS:
• Languages: English, French
• Most services covered by OHIP
• Medical referral required
• Paid Parking: Accessible for patients with special needs
• Preferred referral method is Fax: Doctor receives faxes and decides who she would like to see
• accompany referral: Lab work, Imaging, Details of previous treatment
• Wheelchair Accessible.
Specialty:
Rheumatoid Arthritis, Carpal Tunnel Syndrome, Chronic Fatigue, Crystal-Induced Arthritis, Fibromyalgia, Osteoarthritis (Degenerative Joint Disease), Polymyalgia Rheumatic, Raynaud's Phenomenon, Spondyloarthropathies, Systemic Lupus Erythematosus, Temporal Arteritis, Vasculitic Syndromes & Wegner's Granulomatosis
Contact:
Working Hours:
TBR® Inspection Report: