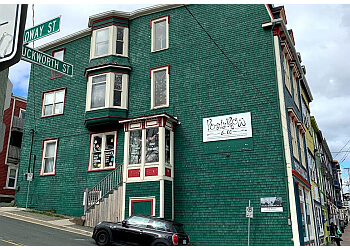 Posie Row is a collaborative endeavour encompassing an array of independent businesses united within the walls of a meticulously restored heritage property in the heart of St. John's, NL. Revered as one of the most esteemed local establishments in the region, it has garnered a reputation as a trusted cornerstone of the community. The commitment to excellence is palpable as they consistently refresh their inventory, infusing it with items that exude distinctiveness and exclusivity. Within the confines of Posie Row's space, you'll encounter an ambiance that emanates spaciousness and a sense of pristine order, elevating your shopping experience to something extraordinary. The dedicated staff members are knowledgeable and genuinely passionate about extending exceptional service to every customer who walks through their doors. Spanning over a remarkable span of 26 years, Posie Row has consistently delivered quality products at accessible price points, cementing its status as a stalwart purveyor of value within the community.

UNIQUE FACTS:
• Offering Delivery in And Around St. John's
• Unique and Carefully Curated Assortment of Gifts.
Specialty:
Aprons, Bar and Glassware, Cookbooks, Kitchenware, Knobs and Hooks, Pillows, Throws, Rugs, Earrings, Necklaces, Body Jewellery, Hardware, Plugs, Tunnel, Pendants, Bracelets and Rings, Molly Made, Greeting Cards, Bandanas, Headbands, Hats, Pins, Patches, Stickers, Bath and Body, Books and Games, Cross Stitch, Embroidery Kit, Magnetic Poetry & Magnet
$Price:
The World Of Freddie Mercury Puzzle $32.00
Pebbles 1000PCS. Puzzle $34.00
The Clairvoyant's Convention Puzzle $29.00
Green Kitchen 1000PCS. Puzzle $34.00
Astrology 1000PCS. Puzzle $32.00
Swedish Fishing Village 100PCS. Puzzle $34.00

Contact:
Working Hours:
Mon-Fri: 10am - 9pm
Sat: 10am - 6pm
Sun: 12pm - 5pm

TBR® Inspection Report: