Coulter Heating & Air Conditioning
Coulter Heating & Air Conditioning is a prominent HVAC company in the Kawartha Lakes region. Coulter Heating & Air Conditioning is one of the Three Best Rated® HVAC Services in Kawartha Lakes, ON.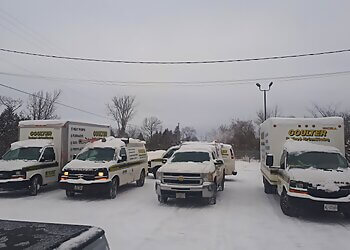 When it comes to geothermal systems, Coulter Heating stands out by offering the industry's best warranties, providing you with peace of mind. They handle the complete installation process, including ductwork, furnace, and earth loop, to ensure a hassle-free experience. They hold certification from the Canadian GeoExchange Coalition (CGC), making you eligible for government rebates on geothermal system installations. They offer the best warranties for a geothermal system in the industry. They have been installing and servicing WaterFurnace geothermal systems for 12 years. Their service technicians embody professionalism, displaying friendliness, cleanliness, politeness, and a high level of skill. Furthermore, they consistently use state-of-the-art tools and techniques, ensuring that your HVAC needs are met with the utmost precision and efficiency.


Efficient Services
Trustworthy Team
Free Estimate
Friendly Budget.
Residential

Commercial

Air Conditioning Service

Repair

Maintenance

Installation

Heating

Ductwork

Water Furnace Geothermal System

Furnace

and Earth Loop

Radiant Heating

Heat Pump

Ductless Air Conditioners & Natural Gas
Derek and his team were fantastic! Derek came out to look at everything right away after i contacted him with issues regarding our heat. He took a look at everything we would need, provided us quotes and time frames. We needed our water heater replaced at some point and decided to get that done as well since they were hwr. The whole team worked extemely hard and were very respectful. They enaured to put down special material as to not track any dirt while going in and out which was great, our floors thanked them for that. Everything was left in great repair. Our new furnace is amazing and the team was so knowledgeable, they ensured that heat travels well.through our home now. Our house has not been so evenly heated since we moved in! I highly recommend thwir seevices to anyone who needs it or is looking into repairs or upgrades. Coulters are your guys!
Amazing guys to deal with Had my ac fixated on my yacht. Scott is the technician who came to do the service call very professional and great customer care Got the ac going Will use them for any future repairs.
The techs did a great job and they are very professional/clean. It was great dealing with the company from the sales person, office staff and techs. Would highly recommend them!
Mon-Fri: 8am - 5pm
Sat & Sun: Closed
Nearby HVAC Services in Kawartha Lakes: