Jeremiah Eastman - Eastman Immigration Law Office
Jeremiah Eastman stands as the visionary behind the inception of the Eastman Law Office. Jeremiah Eastman - Eastman Immigration Law Office is one of the Three Best Rated® Immigration Lawyers in Oakville, ON.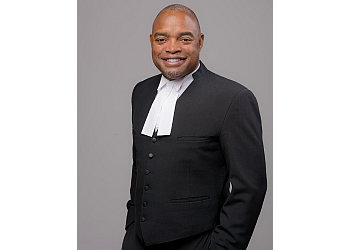 His academic journey led him to attain a law degree from the University of Ottawa, subsequently solidifying his status as a registered lawyer acknowledged by the Law Society of Ontario. Jeremiah's affiliations span wider, encompassing membership in esteemed organizations like the Canadian Bar Association, the National Immigration Law Section, and the Ontario Bar Association. At the core of Jeremiah's legal pursuits lies an exclusive focus on Canadian Immigration, Refugee, and Citizenship law. His expertise is underscored by his successful representation of government decisions, wherein he championed cases on behalf of the Minister of Citizenship and Immigration and the Minister of Public Safety and Emergency Preparedness within judicial settings. Jeremiah's prowess extends beyond litigation, as he brings to the table substantial experience in guiding foreign nationals through the intricate process of preparing and submitting applications for various Canadian immigration pathways. Whether it's facilitating programs like Spousal Sponsorship, Humanitarian and Compassionate applications, Skilled Worker Program, Canadian Experience Class, or others, Jeremiah's adept guidance and diligent support are pivotal in assisting individuals in their pursuit to work, study, visit, and ultimately immigrate to Canada.


Registered lawyer with the Law Society of Ontario, the Canadian Bar Association and the Refugee Lawyer's Association
Their fees are competitive and their services professional and honest.
Parent and Grandparent Sponsorship

Canadian Citizenship

Deportation From Canada

Express Entry

Humanitarian and Compassionate Applications

Permanent Residence Card

Post-Graduate Work Permit

Pre-Removal Risk Assessment

Provincial Nominee Program

Religious Worker Applications

Spousal Sponsorship

Study Permit & Temporary Resident Permit
From the beginning, Mr Eastmond answered all questions and gave me possible outcomes due to my circumstance. He was honest and very knowledgeable. His assistant Leigh Anne is also amazing. She answered all calls and emails promptly. I never worried about missing any deadlines to submit, because she kept on top of everything. Thank you again for everything.
Mr Eastman helped me successfully appeal an unjust PGWP refusal. I appreciated his thoroughness. His patience and calmness were contagious. I had a great experience in a situation that wasn't so great. I would definitely recommend Eastman Law Office.
Eastman Law is superb. Incredibly efficient and patient with all steps and advice needed in order to successfully obtain my work permit and permanent residence in Canada, I can't recommend them enough. Thank you!
Mon-Fri: 9am - 5pm
Sat & Sun: Closed
Nearby Immigration Lawyers in Oakville: