Melissa M. Babel - Babel Immigration Law
Melissa M. Melissa M. Babel - Babel Immigration Law is one of the Three Best Rated® Immigration Lawyers in Oakville, ON.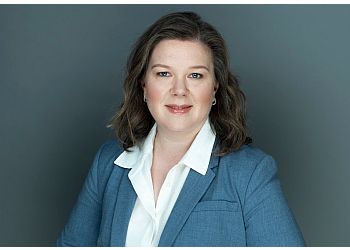 Babel stands as the Founder and Principal Lawyer at Babel Immigration Law, showcasing a distinctive spectrum of experience that spans Canadian Immigration law. Her expertise encompasses comprehensive strategic immigration planning, covering temporary and permanent residence matters and intricate corporate compliance issues. Her approach is characterized by precision, seamless integration, and pragmatic counsel, often catering to various industries such as technology, aerospace, oil and gas, project management, engineering, manufacturing, and hospitality. Melissa extends her adept services to corporations seeking astute advice in these sectors, navigating complex immigration intricacies. Notably, her prowess extends to representing individuals and their families in diverse scenarios, encompassing temporary sojourns (for a visit, work, or study), permanent residence applications spanning economic, family, refugee, and humanitarian contexts, and even citizenship pursuits. In a testament to her versatile skills, Melissa has successfully advocated for clients in litigation across all tiers of the Immigration and Refugee Board and within the Federal Court. Her expansive expertise and unwavering commitment make her a cornerstone within Canadian Immigration law.


Melissa is recognized as a Certified Specialist in the area of Citizenship and Immigration Law by the Law Society of Ontario.
Member of the Board of the Oakville Choir for Children and Youth for the past three years.
Start-Up Intra-Company Transfers

Federal Skilled Trades Applications

Entrepreneurs and Self-Employed Applicants

Start-Up Visa Program

Family Class Applications

Super Visa

Caregiver Programs

PR Card Applications

Citizenship Application and Retention of PR including Advocacy and Litigation

Labour Market Impact Assessment Based Work Permits and Start-Up Intra-Company Transfers

U.S. Citizenship & U.S. Student Visas
We are very grateful and pleased with the successful outcome of our complicated sponsorship appeal case. Melissa handled our case with great attention and outmost care. Her commitment to advocate on our behalf was apparent. Throughout the process she maintained consistent communication with us until our case was resolved. Thank you Melissa and Jahail for your great work!
I highly recommend Babel Immigration Law! Melissa and Jahail were extremely professional, competent and efficient. They were a pleasure to work with and made the process of becoming a permanent resident of Canada as stress free as possible.
I want to thank Ms. Melissa Babel and her team, especially Ms. Jahail Darby at Babel Immigration Law for promptly helping me with my immigration (legal) issues. They are extremely professional, honest, thorough and promptly resolved my issue and I highly recommend Team Babel.
Canadian Immigration for 30 minutes: $300
Immigration Consultation for 1 hour: $475
US Immigration Consultation for 30 minutes: $375
US Immigration Consultation for 60minutes: $500

Mon-Fri: 9am - 5pm
Sat & Sun: Closed
Nearby Immigration Lawyers in Oakville: