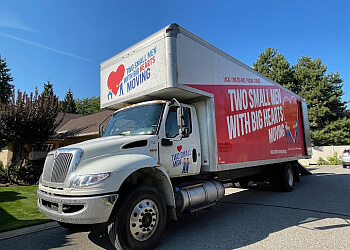 Two Small Men With Big Hearts Moving Co. is a steadfast, independently owned and operated moving enterprise. With a legacy spanning over four decades, they have established themselves as experts in apartment and condo moves and local and long-distance relocations. Whether the journey is across Richmond's neighbourhoods or traversing the expanse of the country, their unwavering commitment remains to transport your belongings safely and with utmost efficiency to their new dwelling. Guided by a mission to cultivate a positive moving experience, their dedicated team ensures that utilizing their moving services leads to a seamless transition. Their ultimate goal is to alleviate the stress that invariably accompanies the process of moving, allowing you to shift your focus toward the exciting prospects that lie ahead. Reaching out to them not only grants access to their expertise but also opens the door to obtaining free estimates, further enhancing the convenience of your moving journey.

UNIQUE FACTS:
• Online Appointments
• Onsite Services
• Stress-Free
• Affordable Prices.
Specialty:
Local and Long Distance Moves, Packing Services, Furniture Assembly and Disassembly Special Item Transport & Storage Services

Serving Locations:
Abbotsford, Burnaby, Coquitlam, Fort Saint John, Nanaimo, North Vancouver, Prince George, Surrey, Vancouver & Victoria
Contact:
Working Hours:
Mon-Wed: 10am - 8pm
Thu & Fri: 10am - 5pm
Sat: 9am - 5pm
Sun: 10am - 4pm
TBR® Inspection Report: