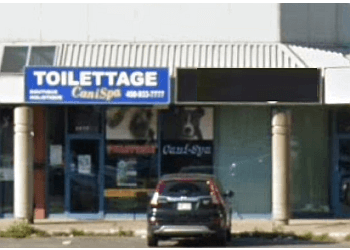 Canispa, founded in Laval back in 2007, is a renowned clipping and grooming salon catering to both dogs and cats. Beyond mere grooming services, they extend their assistance to pet owners seeking valuable insights and advice from their seasoned team. Driven by an ardent affection for animals, their team stands as a vibrant and adept group of professionals. Each member of their staff has been handpicked for their exceptional capabilities, unique flair, magnetic personality, and foremost, their wealth of grooming expertise. Canispa stands as an exquisite haven for enhancing the appearance and well-being of your beloved pets. The team's unwavering passion for animal welfare resonates strongly, motivating them to consistently excel. Their workforce consists of accomplished graduates, each driven by a desire to continually refine their skills to better cater to your animal companions. The holistic care offered at Canispa mirrors their holistic approach to pet grooming and nurturing.

UNIQUE FACTS:
• 15 Years of Qualified Experience
• Grooming Specialist
• Holistic Care for Your Pet
• Ensure Fast and Safe Grooming
• Gentle Techniques.
Specialty:
Complete Mowing and Grooming, Detangling and Brushing, Eye Cleaning, Ear Cleaning and Waxing, Stylized Cuts, Mowing and Cutting with Scissors, Hair Cut of the Pads, Claw Cutting, Anal Gland Emptying, Bath with 100% Natural Shampoo, Hair Drying and Finishing, Buckle, Scarf & Perfume
Contact:
Working Hours:
Tue-Fri: 9am - 5pm
Sat: 8am - 3pm
Sun & Mon: Closed

TBR® Inspection Report: