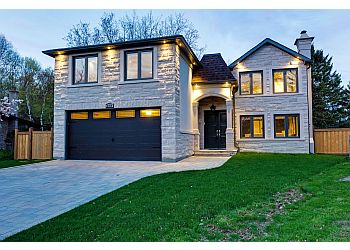 V.A.Architect Inc. is a specialized architectural and project management firm operating in Ontario. They cater to various building types, including custom-made residential, industrial, assembly, and commercial projects. The firm is led by Abhay Vaid, a Licensed Architect in Ontario, and a certified Project Manager with extensive experience of over 24 years. Abhay's expertise spans across intricate project construction, having worked in diverse locations such as Canada, England, India, and the Middle East. This wide-ranging experience ensures the delivery of high-quality services to clients. The firm offers a comprehensive range of services, including assistance in obtaining building permits and site plan approvals. Additionally, they represent clients in matters related to Committee of Adjustment, Minor Variance Approvals, and Zoning Approvals. V.A. Architect Inc. also excels in providing estimating services, construction contract administration, and project management for all types of buildings and properties in Ontario. They undertake construction projects with a skilled and licensed construction crew, specializing in extensions, new construction, and interior design endeavors. They represent clients in matters related to the Committee of Adjustment.

UNIQUE FACTS:
• architectural design
• Attic Conversion
• Structural Engineering
• Universal Design
• Engaged in custom-built homes and property developments all across GTA
• Well versed in permit drawings and construction drawings.
Specialty:
Architectural Design, Site Plan Applications, LEED Consulting, Custom Residential, Mixed Use Residential, Commercial, Feasibility Studies, Committee of Adjustment Applications, Industrial, Home Gym Design, Construction, Assembly & Commercial Building
Contact:
Working Hours:
Mon-Thu: 10am - 5:30pm
Fri: 10am - 4:30pm
Sat & Sun: Closed
TBR® Inspection Report: